If you are thinking about the affair and relationship of his election campaign manager Kellyanne Conway with President Donald Trump then I have the answer for you. The only affair that she has with Mr. Trump is business affair; the relation between Trump and Conway is employer and employee respectively.
Of course!! There is a reason to question because Trump fired his two campaign managers before hiring Conway. Paul Manafort was fired because his name was involved in illegal activity and with Pro-Russian militant. Then after Corey Lewandowski was fired because Trump thought the campaign should require more creativity. Some said that "Corey was fired because Trump's family member don't like him because he tried to be so close and personal with the Trump family".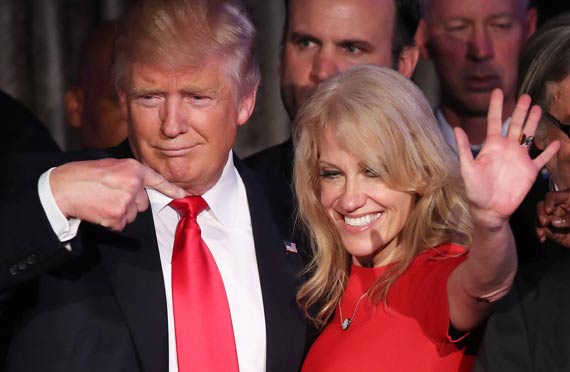 After Paul and Corey were fired, Trump announced first female Republican campaign manager Kellyanne Conway and she became his favorite. And they worked it out so well; the whole election turned in favor of them. Not only that but Kellyanne had very much optimism about Trump and she was supporting and sorting out all his controversies to the whole world.
Conway's only affair was to handle the campaign properly which she did too. She also maintained her relationship with media too and handled every controversies and rumors that goes viral. She consistently supported her boss in every possible way. And Yes!! That's the affair and relationship that Kellyanne had with Donald Trump.
But if you think that there is some romantic relationship between and sexual affair between Kellyanne and Trump then it's a big NOO!! If you want reason then I can give you plenty.
First of all Kellyanne Conway is married to her lawyer husband George T Conway III with four children.
Conway is not only close to Donald Trump but to all her family members and they trust her to work with Trump.
Conway have the reputation of not mixing the personal life with professional life.
Donald Trump and Kellyanne both are very busy person so there is less chance of having extra- marital affair.
Kellyanne and Trump both are surrounded by lots of people all the time.
Although Trump is believed to be engaged with various women and married thrice with Ivana Trump, Marla Maples and Melania Trump; he is living happily with Ivanka Trump, Donald Trump Jr., Eric Trump, Tiffany Trump and Barron Trump.

Donald Trump's beautiful family with his children and children in laws. Kellyanne Conway had a opportunity to work with them all closely.