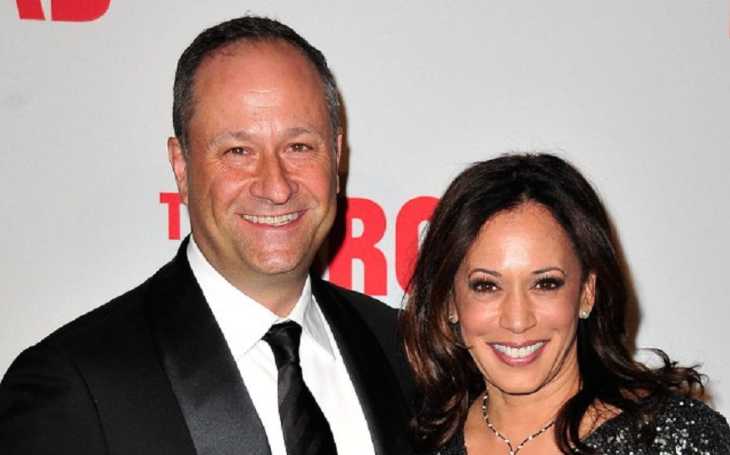 Senator Kamala Devi Harris, known as a first black woman to be attorney general is married to Douglas Emhoff who is a partner in charge of Venable LLP's law firm in Los Angeles office. They married at Santa Barbara in 2014 after being engaged for 5 months.
The wedding of Kamala Harris and Douglas Emhoff was officiated by Maya Harris who is the sister of Kamala. The matrimonial ceremony was organized in the Santa Barbara courthouse. Maya Harris is married to the former Associate Attorney General Tony West.
The wedding ceremony of Harris and Emhoff was private with some friends and family members only. Their wedding photograph was released only after their wedding was over. The wedding was done in both Indian and Emhoff's cultural style. They both exchanged garlands in the ceremony just like an Indian wedding.
Kamala Harris with her husband Douglas
At the end of the wedding, Douglas broke the glass as per the rituals. They wrote their own vows and Harris even helped Emhoff.
Meena, the brides' niece was also there reading Maya Angelou's poem "Touched by Angel". Harris had worn the golden colored dress by California designer. The name of the designer was not disclosed.
Kamala was born in California and grew up there; her mother Dr. Shyamala Gopalan is from Chennai, Indian and her father Donald Harris is a University professor of economics at Stanford University. Her mother is a breast cancer researcher and specialist. So, she grew up in both Baptist and Hindu teachings.
After the parents of Harris divorced, Kamala and Maya, with her mother moved to Montreal with their mother where Dr. Gopalan did teaching in McGill University and also worked on Jewish General Hospital.
Douglas Emhoff, age 52, was previously married with two children but divorced later but it's the first marriage for Kamala Harris. However, this is not the first relationship of Kamala. She previously dated Willie Brown who wat a powerful speaker of the California State Assembly and later became the governor of San Francisco. Brown and Harris broke up after he became governor. They had planned for marriage as per source.
Harris and Emhoff have no children yet or maybe they are planning for it. Harris had two stepchildren from her husband and his ex-wife.
Former president Barrack Obama and Kamala Harris had been friends for a very long time. Once Barrack said she is the best-looking attorney general which caused the huge media and public attention.
As a career prosecutor, I actually went after gangs and transnational criminal organizations. That's being a leader on public safety. What is not, is ripping babies from their mothers. pic.twitter.com/WyyHU3U7jE

— Kamala Harris (@KamalaHarris) July 2, 2018
Harris is graduate of Howard University in D.C and earned her J.D from Hastings College of the Law, University of California. In 1990 she got the admission to California Bar.
She is an open critic of the Donald Trump administration.
Kamala Harris might run for 2020 Presidential election
The truth is, we shouldn't just be thanking women of color for electing progressive leaders — in 2018, we should be electing women of color as those leaders.

— Kamala Harris (@KamalaHarris) August 9, 2018
Many people, especially black women are strongly expecting Kamala Harris to run for the Presidential election and beat Donald Trump. They believe that Kamala Harris would be a good pick for president. She herself has been dropping major hints that she is running for president. She has appeared on the several talk shows. One of them is "Ellen". The major purpose is to increase funding for HBCUs from $244.7 million to $279.6 million. Kamala Harris herself has twitted in twitter regarding she will be competing against Donald Trump.
Controversy of Kamala Harris
For immigrants and women's rights, Kamala Harris is an outspoken advocate and is also a proud member of the resistance against President Donald Trump. The day after Trump was sworn into office on January 21, 2017, Kamala Harris called his inaugural address 'dark' message while speaking at the Women's March in Washington D.C. Kamala Harris criticized his executive order seven days later by barring citizens from terror-prone countries entry to the United States for 90 days. She called it a "Muslim ban". Kamala Harris put some tough questions to the Deputy Attorney General, Rod Rosenstein, during a Senate Intelligence Committee hearing, on June 7, 2017, over the role that he had played in the May 2017 firing of FBI director James Comey. It resulted that Senators Richard Burr and John McCain told her to be more respectful.
Comments
comments