Bernie Sanders is a 75-year-old New York-born politician who has been in the US Senate since January 3, 2007 as the successor of Jim Jeffords. Formerly, Sanders was Chair of the Senate Veterans' Affairs Committee (2013 to 2015), a member if the US House of Representatives (1991 – 2007) and Mayor of Burlington (1981 – 1989).
Early Life and Education
Bernie Sanders was born to father Elias and mother Dorothy on September 8, 1941. Raised by a Polish father and American mother, Sanders went to a P.S. 197 Brooklyn-based elementary school and later joined the Hebrew school for early education. For high school, Bernie went to James Madison.
Bernie Sanders entered Brooklyn college in 1960 and transferred to the University of Chicago for an undergraduate degree in political science.
Personal Life
While at college, Bernie met Deborah Shilling. In 1994, he married Deborah, but the relationship didn't last more than two years. Then, Bernie started dating Susan Campbell Mott and the couple had a son named Levi in 1969. However, the couple never got married. In 1988, Bernie tied the marital knot with former Burlington College President Jane O'Meara Driscoll.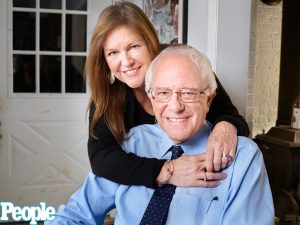 Although the Sanders couple doesn't have any children, Driscoll has three from the previous marriage.
Career
Bernie Sanders' career as a politician started since his college days at the University of Chicago. Graduating from the respected college, Bernie went to New York and started involving various kinds of jobs such as a teacher, carpenter, writer, and filmmaker. Unsatisfied by the field he was involved in, Bernie decided to join the Liberty Union Party and begin a political career. Soon enough, he sought for his chances in the 1972 and 1976 Vermont Gubernatorial Elections. Likewise, Bernie also ran for the US Senate in 1972 and 1974.
Rising as a decorated politician, Bernie Sanders stood for Mayor if Burlington in 1980. Having won the election, Sanders assumed office on April 6, 1981. During his 8-year term at the Mayor's office, Sanders remained aggressively critical about the US policies on South America. Besides, his administration ran in a balanced budget which helped the state economy to attract a lot of investment. Among many of Sander's projects, improvement of Lake Champlain was highly spoken of.
Finishing two terms as Mayor, Bernie decided to run for the US House of Representatives from Vermont's at-large district. He lost the first election against Peter Smith but won the second one with 56% votes. Starting on January 3, 1991, Sanders remained a congressman until January 3, 2007. During this long period of time in the US House of Representative, Sanders took his aggressive stance on Patriot Act and Federal Reserve Bank's Chairman Alan Greenspan. Besides, he voted for Violent Crime Control and Law Enforcement Act in 1994 and Protection of Lawful Commerce in Arms Act in 2005.
On January 3, 2007, Bernie Sanders succeeded Jim Jeffords as US Senator from Vermont. Serving alongside Patrick Leahy, Bernie has successfully worked on the following committees so far:
Committee on the Budget (Ranking Member)
Committee on Environment and Public Works
Committee on Energy and Natural Resources
Committee on Health, Education, Labor, and Pensions
Committee on Veterans' Affairs (former Chair)
While still a US Senator, Bernie Sanders ran for the Democratic nomination for 2016 Presidential election. Primarily, he faced Martin O'Malley, Lawrence Lessig, Lincoln Chafee, Jim Webb and Hillary Clinton. As the Democratic primaries took pace, other candidates dropped out except Hillary Clinton. With 13.1 million popular votes and 1846 delegates, Bernie Sanders lost the Democratic nomination against Hillary Clinton.
https://www.youtube.com/watch?v=5bXdZlusde4
Currently, Bernie is serving as a member of the US Senate from Vermont.
Donald Trump and Bernie Sanders
Although Bernie Sanders didn't manage to gain enough delegates to win the Democratic nomination, researchers say that he would definitely defeat Republican nominee Donald Trump in the general election – unlike Hillary Clinton. Being a great appeal for youth voters in the US, Bernie Sanders has been one of the favorite politicians among people.
Since losing the nomination, Bernie has been critical of Donald Trump and his administration. Once, he referred to Trump administration as totalitarian and didn't fail to mock Trump's hypocrisy by bringing out a large printout of one of his tweets that say: I was the first & only potential GOP candidate to state there will be no cuts to Social Security, Medicare & Medicaid. Huckabee copied me.