Last updated on June 7th, 2018 at 01:57 pm
Rex Tillerson is the 69th Secretary of State of the United States in the Trump Administration. On March 13 Trump gave the biggest shock yet firing Tillerson. CIA director Mike Pompeo will replace Tillerson. Tillerson is a civil engineer and former chairman and chief executive officer of ExxonMobil.
Trump has fired 35 major staffs until this week and Tillerson is one of the most senior or powerful among them.
Tillerson became the shortest serving Secretary of State in the recent decades. His brief tenure lasted only 14 months.
Why was Tillerson fired?
Tillerson was speculated to be fired as early as November when Trump and Tillerson started having differences but again Trump, as usual, surprised everyone firing Tillerson in stealth mode. Tillerson firing was made official from Tump's tweet. According to reports Tillerson had no idea he had been fired or was going to be fired. It was Trump tweet which informed him of his dismissal. Tillerson was in Africa when he found out he was fired.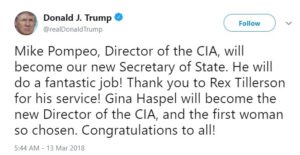 The latest differences between them were the chemical attack on the ex-Soviet spy in Salisbury, England. Tillerson strongly blamed Russian government for the life-threatening nerve agent attack while Trump didn't like his idea.
Likewise, Trump is against the Iran nuclear deal involving Iran, Russia, France, the United Kingdom, China, Germany, the EU, and the US signed during the Obama administration while Tillerson is the supporter of the deal. Trump has disliked this deal early from his presidential campaign and constantly attacked during his rallies. But it is going to be tough for trump to withdraw from this deal because other western countries like Britain, France and Germany are strong supporters of the deal.
Another major difference them is the TPP (Trans-Pacific Partnership). Tillerson was the supporter of the TPP while Trump has called the worst trade deal of the century. Trump has already withdrawn from the TPP and also Paris Climate Accord.
Due to these dual preferences of the President and the Secretary of State even foreign diplomats were
suspicious of official policies of the United States.
Recently Trump has been liking CIA chief Pompeo and they seem to have good chemistry together.
Trump's decision is criticized as he fired the top diplomat of the country when the bilateral talk with North Korea's dictator Kim Jong Un is going to take place, experts have claimed US diplomacy has turned into turmoil and have turned on Trump for choosing a wrong time for firing Tillerson.
Although Tillerson has been fired he will hold the post till March 31, unless Pompeo is rejected by the Congress.
Tillerson didn't mention Trump in the farewell speech:
In his address in the State Department after his dismissal, he looked tired and exhausted and he neither thanked Trump nor criticized him. He didn't even mention the president in the 10-minute address.
https://youtu.be/ENRHumMg6ZA
Tillerson's net worth:
According to Forbes, Tillerson's net worth is $330 million in 2017. He made his fortune as the chairman and CEO of ExxonMobil, the largest oil drilling company in the world. He is an oil mogul and he has been in Exxon Company since 1975.
He owns two ranches in Texas and he purchased $5.6 million house in Washington DC in January 2017 just before taking the job of Secretary of State.