Last updated on March 5th, 2017 at 05:33 pm
Kellyanne Elizabeth Fitzpatrick Conway is widely recognized as the campaign manager of the US President-elect Donald Trump. She is the first successful woman campaign manager. Besides, she is a pollster and a strategist by profession.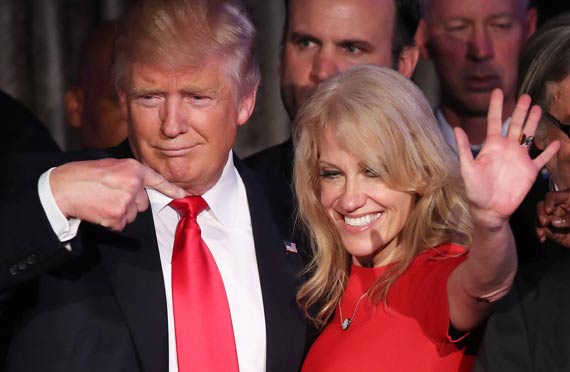 Conway's entry into the 2016 US Presidential election started when she endorsed Republican candidate Ted Cruz. Initially, she was criticizing Trump as being too extreme. In late January, Conway called Trump 'literally bulldozing over the little guy to get his way'. However, as the previous Trump campaign manager Corey Lewandowski was fired, Kellyanne Conway was subsequently appointed as Trump's senior advisor.
@realDonaldTrump & I working hard tonight. Thank you for the privilege of a lifetime, #PEOTUS. pic.twitter.com/tBcg8duiVj

— Kellyanne Conway (@KellyannePolls) 29 November 2016
This election seems to have been a lucrative business for Conway. She reportedly has banked over $1.9 million from this campaign. That amount is more than double the amount she bagged in the previous Obama-Romney election. On the other side, while Conway was working for Ted Cruz, she made a donation of $5400. However, how much she received from him hasn't been disclosed.
Must Read: Kellyanne Conway's Salary as Counselor to the Trump
To break down the election earnings of Conway, she was initially paid $65000 by Ben Carson's PAC. The June and August payment to Kellyanne's firm The Polling Company was recorded at $81000 and $247000 respectively. Overall, the firm received $952,000 from roles as a pro-Cruz and a pro-Trump. Besides, the firm also made around $240,000 from other sources, but related to the election.
Although Conway hasn't been open about her monthly salary as a Trump campaigner, it has been found out that her firm received a sum of $128,000 as its very first payment in August. Now, Conway has a net worth of $4 million. She and her husband George T. Conway III own a mansion in 11 Litchfield Way, Alpine Boro. The property was valued at 6 million dollars in 2007.