Last updated on February 6th, 2017 at 11:23 am
Eric Trump is the third son of the lavish veteran Donald Trump with his first marriage to Ivana Trump. Lara Yunaska was married to Eric in 2014.
Lara Yunaska is a personal trainer, nutritionist fitness, and an avid equestrian and runs marathons for various charities, including Marathon New York City Marathon for St. Jude Children's Research Hospital that her husband jointly worked and dedicated by founding charitable Eric Trump Foundation.
Must Watch : Lara Yunaska in Bikini
Trump is known for his real estate business and as a philanthropist. He has been giving his hand as an executive vice president of development and acquisitions for the Trump organization. She is actively alleged to her father in law campaign trail supporting his husband and his other siblings.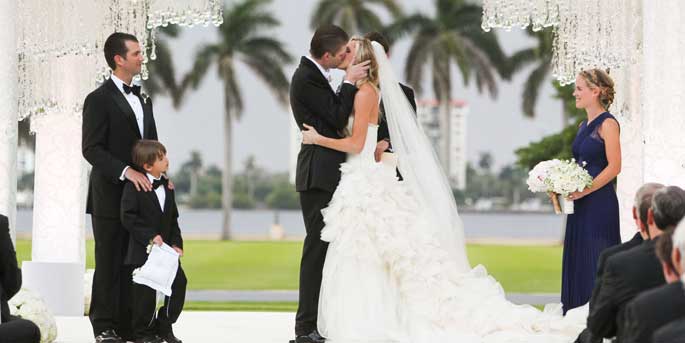 Although the couple hasn't publicized the story how they met, it's clear that they share some common interests.Eric describes success is the best fit if there is someone who loves you by your side. They do work together for The Eric Trump Foundation, which raises money for ill diseased children.
Must See: Lara Yunaska and Eric Trump Differences
Must See: Lara Yunaska net worth
Eric Trump proposed to Yunaska in July 2014 at Trump Seven Springs estate in Bedford, New York with a dazzling emerald cut diamond platinum ring with side stoles from his sister Ivanka Trump's fine collection. They dated for six years before they married.
She was an inside Edition producer. They wed the same place where Eric's dad and stepmother Melania Trump got wedded. Trump owned Mar-a-Lago Club in Palm Beach, Florida had romantic ambiance and the lavish wedding pleaded them with best photos that surfaced the media. Some even call it tawdry as it was the most lavish wedding.
Two weeks before their marriage, Lara broke her collar wrist bones on horse riding .She blended her bandage  with bedazzled gloves  that matched her Vera Wang gown to conceal  that her wrists were actually broken . Lara's pet dog miniature beagle, Charlie was the ring bearer at their wedding. As of 2016, the couple has no children.
Lara Trump is an animal lover and welfare advocate for the North Shore Animal League of America, the largest no-kill animal rescue and adoption organization in the world.
She has also volunteered for "Paw's Place Animal Rescue in Winnabow, NC, and Animal Aid USA, a non-profit that relocates animals from high-kill shelters and places them into receiving rescues and homes. She is a hardworking lady who lives an admirable life, who associates   at CBS inside edition. Trump is also the president of Trump Winery.
She married Trump  that hunts big game in Africa for sick jolly .How did the relation work out and how does she handle her husband being surfaced on medias as cruel Trophy hunters despite the fact that he has all good character  except his craze for hunting ?Well, they said love is far more great of a feeling than any damn thing in the world.Pretty true it seems in this case.