Last updated on March 5th, 2017 at 05:35 pm
The Polling Company™, Inc. Woman Trend is a nationally recognized consulting firm based in 400 N. Capitol St. NW, Ste 790, Washington, District of Columbia. The firm was founded in 1995 and has been sky rocketing in its performance ever since. Kellyanne Conway is the president and the CEO of The Polling Company.
Must Read: Kellyanne Conway's Salary in White House
What The Polling Company has to say about itself?
Primarily, as evident in its name, The Polling Company is a privately woman-owned firm in a business market which is largely dominated by men. No other firms have ever been so precise and research-oriented. They have done works on attitudes, expectations, behaviors but specialize in legal, political and social issues.
The Polling Company™, Inc. Woman Trend https://t.co/MgOSBqW809 pic.twitter.com/fKaNsoLF60

— Michael (@michaelozil608) 2 January 2017
The firm calls itself cultural anthropologists who dig into the core of individual behaviors and responses. Reputed for its unique quantitative and qualitative consumer-centric approach, The Polling Company has been able to work with multinational companies such as Vaseline, PayPal, Uni Lever, Save the Children and American Express.
To talk about the various positions in the firm, Brett Loyd serves as the Director of Political Services, Karen Smith as Director of Special Projects, Kevin Manning as Senior Research Analyst, Katie LaPotin as Political Research Analyst and Giovanna Coia as Research Associate. The four out of six top posts of the firm are held by women. The Polling Company employees are proud to call themselves 'one of the nation's most respected market research and consulting firms'.
The company also recruits interns who are passionate to initiate, to research and to lead. The Polling Company can be contacted on these address, emailed at [email protected] and called at 202-667-6557. To visit its website, click The Polling Company™, Inc. Woman Trend.
Conway and her polling firm made a handsome money from 2016 election
This election seems to have been a lucrative business for Conway and her company. She reportedly has banked over $1.9 million from this campaign. That amount is more than double the amount she bagged in the previous Obama-Romney election. On the other side, while Conway was working for Ted Cruz, she made a donation of $5400. However, how much she received from him hasn't been disclosed.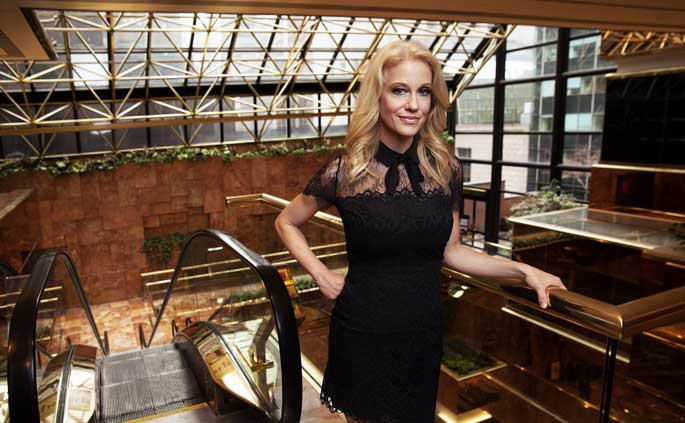 To break down the election earnings of Conway, she was initially paid $65000 by Ben Carson's PAC. The June and August payment to Kellyanne's firm The Polling Company was recorded at $81000 and $247000 respectively. Overall, the firm received $952,000 from roles as a pro-Cruz and a pro-Trump. Besides, the firm also made around $240,000 from other sources related to the election.
In addition, Conway hasn't been open about her monthly salary as a Trump campaigner, it has been found out that her firm received a sum of $128,000 as its very first payment in August. No doubt where Conway gets all the money from to pay for Major League Baseball games to her and family.
Kellyanne is now counselor to the President Donald Trump in White house.