Donald Trump's favorite woman in White House right now is none other than the lady who made him get into that house. Kellyanne Conway also the  special counselor to Trump originally lived in New Jersey but well now that she is  earning so much and her net worth has boosted rocket speed she has shifted to a lavish house in Washington DC and well ironic much she is the neighbor to Democratic nominee Hillary Clinton.
The property which is situated in Massachusetts Avenue Heights was earlier the home of Moeenuddin Ahmad Qureshi, the former acting Prime Minister of Pakistan. However now Kellyanne will be residing in this house with her lawyer husband George T Conway and her four children namely George Conway and Claudia Conway. Although she has four children two of her kid's name remain unknown.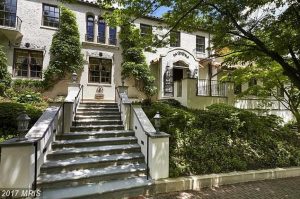 The mansion which covers more than half an acre of land consists of eight bedrooms and also a pool cabana suite.
The very interesting part about this is that none of the people  claim that Kellyanne is originally the buyer. But it is interesting because out of all the house in the secluded area this is the one recently sold which was meant for " family and diplomatic purpose." However sources close to us has claimed that this indeed is the house bought by Kellyanne.
Talking about the personal life of Kellyanne she has been married to George T Conway who is the senior partner in the lawfirm Wachtell, Lipton, Rosen & Katz since January 1994. While George is also pretty high in worth Conway's net worth has rose after her success with making Donald Trump the president. Currently in 2017 her net worth is $4 million.Post her appointment as the 'Counselor to the President' on January 20, 2017, her salary  is around $177,000.
Kellyane Conway and George T Conway house pictures