Last updated on January 29th, 2017 at 02:24 pm
With an acquirement of a new prestigious post at the White House, Kellyanne Conway will have to move to Washington, DC from her hometown of New Jersey. Along with her, Conway is going to take her family that comprise of her husband George T Conway III and her children.
Keeping aside all the other moving in difficulties, Conway is currently worried about children's schooling – where to enroll them?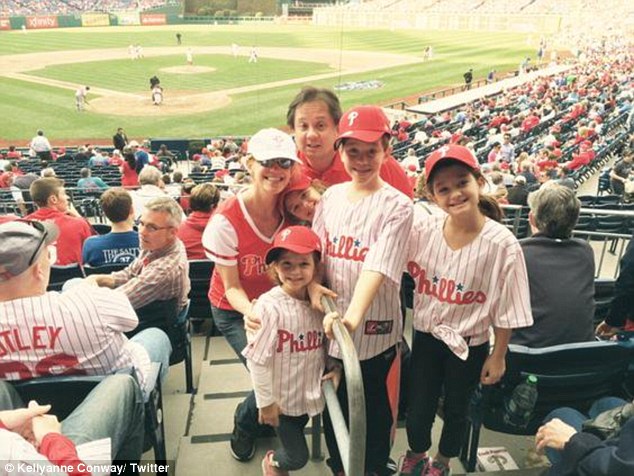 Will Conway get her children into Sidwell Friends School?
With a huge responsibility of Trump administration upon her shoulders, the mother of four 'is worried that establishment elites are so prejudiced against President Donald Trump that she won't be able to get her kids into private school.' She also said, "I would not characterize myself as 'worried' so much as amused by the silence and sighs on the other end of the phone when friends and allies have made preliminary inquiries on our behalf. For some, there is a comfort in sameness."
Conway's twin children presently attend Elisabeth Morrow School, Englewood, New Jersey. As they will be moving soon to DC, Conway has requested all her acquaintances to help her out to choose the suitable school for the kids.
Although there have been widespread speculations that the kids might attend Sidwell Friends School, no sources have confirmed the rumors so far.
Who else went to Sidwell?
Sidwell Friends School has been a famous high schooling station for many first children in the past. Both daughters of Obama, Malia, and Sasha, attended Sidwell Friends School. While Malia has already graduated with an acceptance letter from Harvard University, Sasha will continue her studies for a few more years. In the meantime, President Barack Obama and First Lady Michelle Obama will stay around in DC.
Besides the Obamas, Bill and Hillary Clinton's daughter Chelsea Clinton also went to Sidwell Friends School. Then, she has gone to attend various prestigious universities such as Stanford and Columbia University. Likewise, the former vice-president Al Gore's son Albert Gore III also went to Sidwell.
Another person who might be speculated to go to Sidwell is Barron Trump, Donald Trump's youngest son. However, as cleared out earlier in December 2016, Melania and Barron won't be moving to White House until Barron finishes schooling.
Costs of attending Sidwell
Sidwell Friends School is a renowned private school. Hence, anyone would expect only a huge earner to be able to afford Sidwell. For 2016-2017 academic year, the fees for lower, middle and upper school is $39, 360. The cost includes hot lunch and textbooks for lower school students but only hot lunch for middle and upper school students.