Kellyanne Conway is mother to the four children beside being the surrogate of Donald Trump on TV. Conway is also the first women to run the presidential campaign successfully; of course the first to manage GOP campaign.
Kellyanne is now counselor to the president Donald Trump and she prove all the political pundits wrong. She is also a pollster and CEO of the Polling Company/Women Trends.
Mom: The first and best role. ?
Claudia takes DC#InauguralBall pic.twitter.com/bK2bfgcapa

— Kellyanne Conway (@KellyannePolls) January 21, 2017
Kellyanne Conway's husband George T Conway III is a lawyer by profession and can be the top US lawyer is approved by US senate.
Conway is currently targeted by media and of course SNL which make fun of her all the time. The comment that she made on Ivanka Trump's fashion put her into hot water and the famous "alternative facts".
Conway gave birth to all her children after the age of 35. Here are some of the facts about Kellyanne Conway's children.
Kellyanne Conway is searching school for her 4 children in D.C
? Previewing #firstdance at Inauguration2053
Vanessa, aim to be first female #POTUS! pic.twitter.com/PNeNIu7Hzq

— Kellyanne Conway (@KellyannePolls) January 21, 2017

Conway has become a high profile politician by now and there is a price to pay for that. Sources tells us that it is very difficult for Conway to find private school for her children in D.C. Some schools are not taking her children due to security reasons and they are having a hard time.
Conway says she might leave the job in White House to take care of her children. Her allies are talking to the several schools on her behalf but still the schooling of her children hasn't changed.
Conway might also send her children to Sidwell where the daughters of former President Barrack Obama studied.
Kellyanne have twin children Georgia and Claudia
Perfect #Yankees game. 6-run come from behind 9th inning, all 4 kids here & waitress asked for my ID #NewYork pic.twitter.com/LrFWQ2d4F5

— Kellyanne Conway (@KellyannePolls) June 30, 2016

Conway have four children but first two are twins named George and Claudia. Her other children are Vanessa and Charlotte.
In December 2016 George and Claudia had a concert at their school Elisabeth Morrow School in Englewood, NJ. George and Claudia are the sixth grade students in that school in this private school.
CNN described mornings in the Conway home as "a scramble to get the kids fed, dressed and out the door on time for school — organized chaos that would look familiar to any parent." Asked how she balances career and kids, Conway told CNN she once told a client, "It's like, 'I just hope you ask all the male consultants. Are you going to give up your weekly golf game and your mistresses?' Because they seem really, really busy too.'
Her daughter Vanessa and Charlotte attend public school
#openingday fun. #Yankees fans in #Phillies camouflage 2 root against #redsox. saw 1st grand slam of season! #mlb pic.twitter.com/Jsfh0I7efW

— Kellyanne Conway (@KellyannePolls) April 6, 2015

Kellyanne Conway have two younger daughter Charlotte, who studies in 3rd grade and Vanessa who studies in 1st grade. They are 8 and 7 years old respectively.
Conway's mother was staying with Charlotte and Vanessa while she was busy in campaign.
Kellyanne told the newspaper she had explained to her older children "why Hillary Clinton lied so many times" and "why the media were so unfair to Donald Trump." She also told The Post she discussed Bill Clinton's infidelity with her oldest children, telling them "why she (Hillary) made a different choice when faced with a cheating husband than my (Kellyanne's) mother did."
Conway took her children to work place
Happy 10th #Birthday, George and Claudia! #Eagles pic.twitter.com/rFF26KdEMk

— Kellyanne Conway (@KellyannePolls) October 17, 2014

Kellyanne was captured bringing her one of the daughter's at Trump Tower in January. Conway said her best role is to be Mommy.
Conway is a feminist but not anti-male. She claims that George T Conway III is a loving husband and he is positive, loving and caring.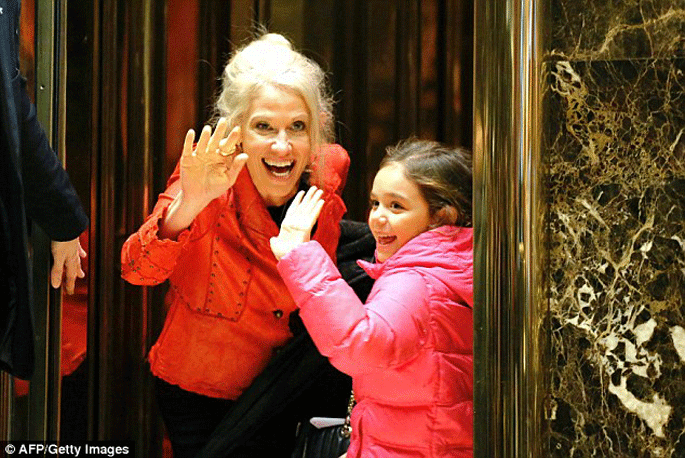 Claudia had to change her shirt to blue to honor Betsy Ross
Our own "Prince George" at 2 yrs old, with twin Claudia and Welsh Corgi (Queen's favorite dog) #royalbaby pic.twitter.com/AyLmvty0NQ

— Kellyanne Conway (@KellyannePolls) July 25, 2013

Conway made her daughter Claudia to change her turquoise color shirt into blue on Memorial day to honor Betsy Ross.
Her husband is a lawyer and a partner to the firm WLRK. He is also called a million dollar man.