John Cornyn is the incumbent US Senator from Texas who also serves as Senate Majority Whip. Cornyn has been a member of the US Senate since December 2, 2002 as the successor of Phil Graham. Formerly, Cornyn was Attorney General of Texas from 1999 to 2002 and Associate Justice of the Texas Supreme Court from 1991 to 1997.
Early Life and Education
John Cornyn was born on February 2, 1952. His father John was in the US Air Force and his mother Atholene was a homemaker. Born in Houston and raised in Japan, John went to American School in Japan for his high school education. After high school, John joined Trinity University for an undergraduate degree in journalism. Cornyn also went to St. Mary's University School of Law for a JD. In 1995, John earned his LLM from the University of Virginia School of Law.
Personal Life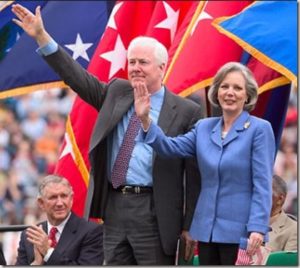 John Cornyn is married to wife Sandy Hansen since 1979 with two daughters: Danley and Haley Cornyn.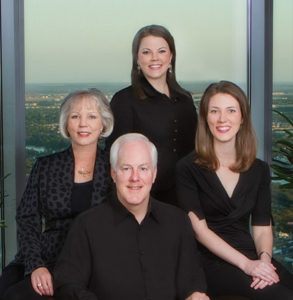 Career
Completing his years at the law school, John Cornyn joined the US Judiciary. He worked his way up to district judge and remained in the position for six years. Then, Cornyn left to join the Texas Supreme Court. Nominated by Governor Ann Richards, John assumed the office of Associate Justice of the Texas Supreme Court on January 2, 1991 as the successor of Franklin Spears. John was succeeded by Deborah Hankinson on October 18, 1997.
In 1998, John decided to run for Texas Attorney General Election. In the Republican primaries, John came second with 32% votes and Barry Williamson topped the chart with 38% votes. In the run-off election, Cornyn won the nomination with 58% votes in favor. To follow up, he defeated Democratic candidate Jim Mattox with a 54% to 44% margin. On January 13, 1999, Cornyn officially became Attorney General of Texas by succeeding Dan Morales.
John served in the position of Attorney General for one term and decided to run for the US Senate in 2002. In the Republican primaries, Cornyn received the nomination by winning 77% of the total votes. Then, he went on to face Democratic Ron Kirk and defeated him by over 0.5 million votes. Cornyn sought for another term in the office in the 2008 Senatorial Election. Winning the Republican nomination with 81% votes, he defeated Democratic Rick Noriega with a 55%-43% margin. John ran for the third term in the 2014 Senatorial Election. His campaign saw a massive victory against David Alameel by winning 62% votes. So far, Cornyn has served on the Committees of Budget, Finance, and Judiciary as a Senator.
Donald Trump and John Cornyn
John Cornyn and Donald Trump both believe in tax cuts to increase investment incentive in the economy. Cornyn even signed the bill to make Bush administration's tax cuts permanent.
https://www.youtube.com/watch?v=w-lcFO33-LA
In May 2016, John Cornyn said that he will support Donald Trump for the sake of party if he wins the nomination. However, over the period of time thereafter, John has changed his stands on Trump. Following the recent firing of James Comey from the office of Director of the FBI, John Cornyn sided with Trump and accused Democrats of hypocrisy.