Orrin Hatch is the incumbent President pro tempore of the US Senate who assumed office on January 6, 2015 as the successor of Patrick Leahy. He also chairs the Senate Finance Committee and has been in the US Senate since January 3, 1977.
Early Life and Education
Orrin Grant Hatch was born on March 22, 1934 to father Jesse and mother Helen. Raised in Pittsburgh, Pennsylvania, Hatch went to Birmingham Young University for an undergraduate degree in history. After bachelor's education, Orrin joined the University of Pittsburgh School of Law for a Juris Doctorate degree.
Personal Life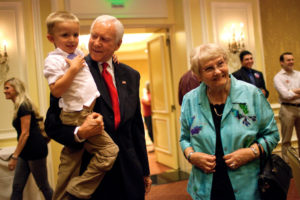 Orrin Hatch is married to Elaine Hansen since August 28, 1957 with six children: Alysa, Scott, Kimberly, Brent, Marcia and Jesse Hatch.
Career
Graduating from the University of Pittsburgh School of Law, Hatch entered public service as an attorney in Utah. Having gained enough legal experience and networks, Hatch decided to run for the 1976 Senatorial Election. Gaining the Republican nomination, Hatch won the seat with 54% votes against incumbent Democrat candidate Frank Moss. As the first term was about to conclude in 1982, Hatch sought for another term in the office. He defeated Ted Wilson with 58% votes.
In 1988, Orrin faced Brian Moss and other third party candidates in the Senatorial election. He had a landslide victory against Brian by crossing 60% votes for the first time. Since then, Hatch always has had remarkable victories: in 1994, 2000, 2006 and 2012, Hatch had 69%, 66%, 62% and 67% votes in favor respectively. In 2012, Hatch was challenged by fellow Republican Dan Lilijenquist for the nomination but, unfortunately, suffered a heavy loss. Throughout his career in the US Senate, Hatch has served on the following committees:
Committee on Finance (Chairman)
Committee on the Judiciary
Committee on Health, Education, Labor, and Pensions
Special Committee on Aging
Joint Committee on Taxation
Impeachment Trial Committee on the Articles against Judge G. Thomas Porteous, Jr. (Vice Chair)
In 2000, Orrin Hatch was one of the prominent Republican candidates running for the Republican nomination against George W Bush. Likewise, Hatch has always aspired to serve in the US Supreme Court. During Ronald Reagan administration, he reportedly was one of the short-listed candidates for the position. Likewise, Hatch was under consideration of Bush administration as well.
Books
The Equal Rights Amendment: Myths and Realities, 1983
Orrin Hatch, Higher Laws: Understanding the Doctrines of Christ, Shadow Mountain, 1995
Orrin Hatch, Square Peg: Confessions of a Citizen Senator, 2002
Donald Trump and Orrin Hatch
Being the prominent leader backing the anti-terrorism bill, Orrin Hatch happens to share ideas with Donald Trump on Middle-East wars and African movements. Likewise, he has always been a strong opposition to President Obama's Patient Protection and Affordable Health Care Act.
In the 2016 Presidential Election, Hatch backed Florida Governor and former President Bush's brother Jeb Bush. However, as the campaigns took pace, he endorsed Marco Rubio. To follow up, Donald Trump became the Republican nominee which led Hatch to vouch for Trump. Orrin's support for Trump became a highlight in May 2016 after he said that Trump's biasedness against judge Gonzalo Curiel wasn't meant to be a racist comment. In contrary, he did condemn Trump on Donald Trump Access Hollywood controversy.