Jeb Bush is the former Governor of Florida who served from January 5, 1999 to January 2, 2007 as the successor of Buddy McKay. He was also the Secretary of Commerce of Florida (1987 to 1988). In the 2016 Republican Presidential Primaries, Jeb Bush was one of the major candidates.
Early Life and Education
Jeb Bush was born to former US President George Herbert Walker Bush and mother Barbara Pierce on 11 February 1953. Raised in Midland, Texas with three brothers and a sister, Bush went to Grady Elementary school for early education. Then, he joined Phillips Academy Andover.
After high school, Jeb Bush joined the University of Texas at Austin for an undergraduate degree in Latin American studies. During his high school and college years, Bush consumed marijuana and hashish.
Personal Life
While Jeb was an English teacher in Mexico, he met his future wife Columba Garnica Gallo and got married in 1974. The couple currently lives in Florida and they have three children.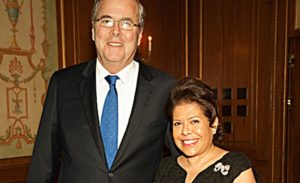 Born in 1976, Bush's eldest child was a student at Gulliver Preparatory School and Rice University. Likewise, the second-born child, Noelle Lucila, is the only daughter in Jeb's family.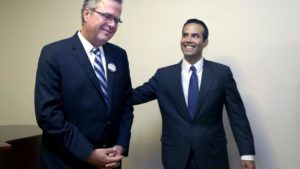 The third child, Jeb Bush Jr. went to Bolles School and is currently working at a Florida-based real estate firm.
Career
Graduating from the University of Texas at Austin, Jeb Bush joined Texas Commerce Bank in a junior position from 1974 to 1977. Then, he was transferred to Caracas, Venezuela to open a new branch and serve as its branch manager. Working in Venezuela for three years, Jeb returned to the US and became a real estate employee. During the 1980 Presidential election, he volunteered as an unpaid employee for his father and Ronald Reagan's election campaign. As Ronald Reagan left President's office in 1988, Jeb helped his father run for president.
Helping his father became a good start for Jeb Bush's entry into the American politics. By the mid-1980s, he was Chairman of the Dade County Republican Party. Under this capacity, he played a crucial role to elect Bob Martinez as Governor of Florida. Following Martinez's victory, Bush was appointed as Florida Secretary of Commerce. In 1994, he bade for the Gubernatorial election but had a very unsuccessful result after admitting that he wasn't in favor of the African-Americans. Upon being asked what he would do for African Americans, he said, "It's time to strive for a society where there's equality of opportunity, not equality of results. So I'm going to answer your question by saying: probably nothing."
In 1998, Jeb Bush joined the gubernatorial election and saw a subsequent victory with a 55%-45% margin. In the 2002 gubernatorial election, Bush sought for another term in office and defeated Democrat candidate Bill McBride with 56% votes. He was succeeded by Charlie Crist on January 2, 2007. After leaving office, Jeb remained relatively passive for some time.
As of December 16, 2014, Jeb Bush officially submitted his name for the Republican nomination for President of the United States. Soon, he revealed his emails with a pursuit of avoiding any future controversies. Unfortunately, the emails also contained some personal and sensitive information. Appealing to many people in the United States, Bush was one of the major Republican candidates for the nomination. By May 2015, he had already raised over a hundred million dollars and was ready to kick off the super PAC.
Following consecutive poor performances in several states, Jeb Bush dropped off the presidential race on February 20 with just three delegates and 286k votes in hand.
Donald Trump and Jeb Bush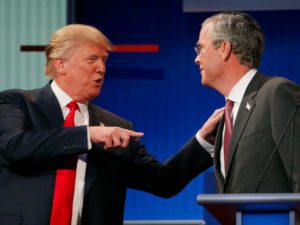 Dropping out of the Republican race, Jeb Bush endorsed Ted Cruz – not Donald Trump. this particular thing does indeed make a lot of difference for Republican President Donald Trump. In a Facebook post, he also mentioned that he wouldn't vote for Hillary Clinton or his own Republican fellow Donald Trump. However, he did congratulate Trump for gaining the Republican nomination.
I congratulate Donald Trump on securing his place as the Republican Party's presumptive nominee. There is no doubt that…

Posted by Jeb Bush on Friday, May 6, 2016
Likewise, Bush recently mocked Trump's border wall agenda on Twitter:
Reality sets in. https://t.co/OnjcBTelhV

— Jeb Bush (@JebBush) February 17, 2017