Last updated on August 18th, 2018 at 03:21 am
Heidi Heitkamp is an American politician, businesswoman, and lawyer. Heitkamp is also part of the U.S Senate where she represents the state of North Dakota.
The Early Years of Heidi Heitkamp
August means back to school for most North Dakotans. Here's a fun memory (OK, I don't really remember it) of me walking out of our house in Mantador on my 1st day of school! #TBT #GetReadyForKindergarten pic.twitter.com/fsDNoHqxjM

— Heidi Heitkamp (@HeidiHeitkamp) August 2, 2018
Heidi Heitkamp was born to parents Doreen LaVonne (née Berg) and Raymond Bernard Heitkamp. She was the fourth child for the couple who would go on to have three more kids after Heidi. Heitkamp's mother was a school cook while her father worked as a janitor and construction worker. She grew up in North Dakota where she studied at various public schools. Heidi graduated with a BA from the University of North Dakota and got her Juris Doctor from Lewis and Clark College.
The Career of Heidi Heitkamp
Heidi Heitkamp began her career as an intern for the U.S Congress before building up a major political career. She practiced law and also worked as an attorney for North Dakota State Tax Commissioner Kent Conrad. Heitkamp would eventually secure the position of Tax Commissioner in North Dakota before becoming the Attorney General of the state.
In 2012, Heidi Heitkamp became the first female Senator for North Dakota since Jocelyn Burdick and also the first woman to represent the state to be elected to the Senate. She had previously run for Governor of the State but was defeated by her Republican counterpart. In 2018, Heidi officially announced that she would run for the Senate for the second term.
Despite being a member of the Democratic Party, Heidi Heitkamp has been noted for showing support for Republican Presidential candidate and eventual President Donald Trump. In 2016, it was even reported that Trump was going to elect Heitkamp as the Secretary of Agriculture. Heitkamp denied the rumors and declared she would not have taken the position if she was asked, citing her responsibility and love towards the state of North Dakota. Heitkamp has since formally opposed Trump's proposal of electing Betsy DeVos as US Secretary of Education. Betsy eventually got the post. However, she was one of the few Democrats to support Trump's nomination for Mike Pompeo to be the Secretary of State.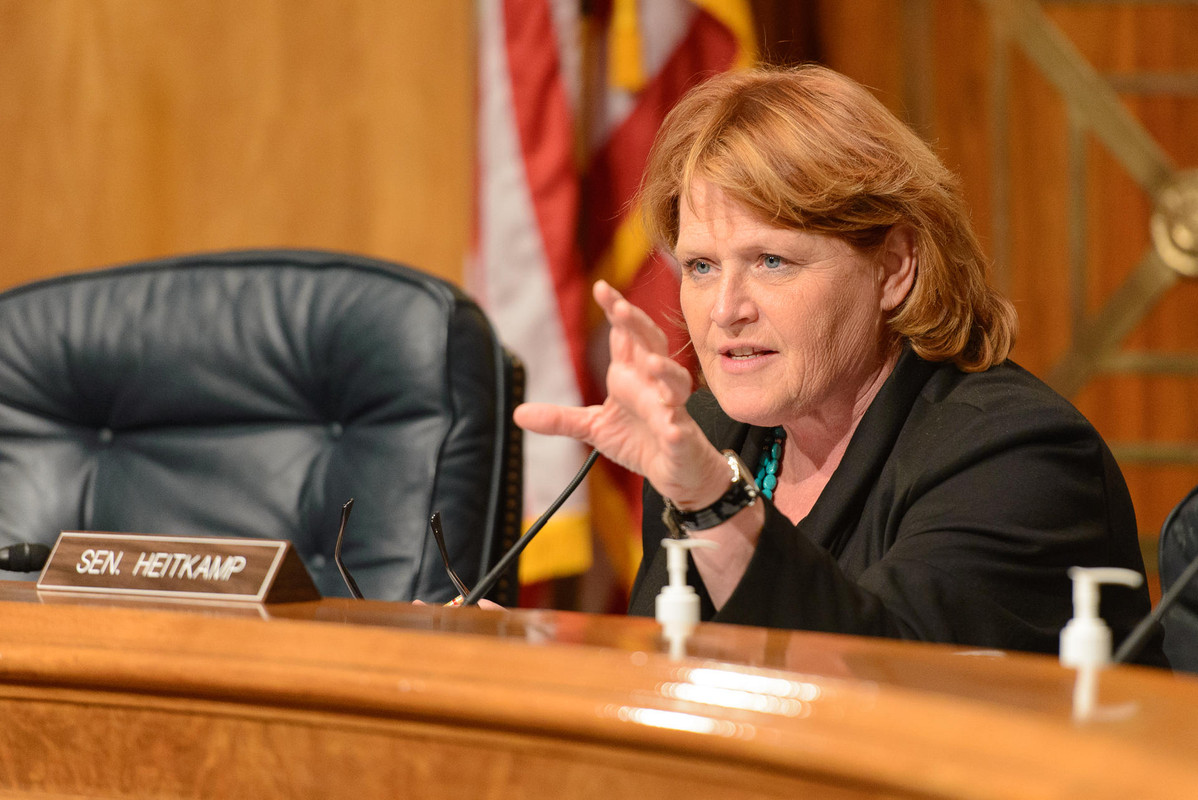 Heidi Heitkamp is an avid supporter of gay rights and also supported the same-sex marriage during 2013 Senate discussions. In 2018, Heitkamp voted yea for "A joint resolution providing for congressional disapproval" under chapter 8 of title 5, United States Code, of the rule submitted by the Federal Communications Commission relating to "Restoring Internet Freedom" which was eventually passed on May 16, 2018. Heitkamp also voted yea on "Immigration reform proposal from Sen. Chuck Grassley and the Trump administration (S Amdt 1959 to HR 2579)" on February 2018, but the bill was not passed.
Personal Life and Net Worth of Heidi Heitkamp
Heidi Heitkamp is married to Darwin Lange with whom she shares 2 children Ali Lange and Nathan Lange. In 2013, Heidi Heitkamp was named as the 39th richest US Senator. She has an estimated net worth ranging from $2 million to $5 million.
Facts about Heidi Heitkamp
Despite being a Democrat, Heitkamp is a supporter of the NRA.
Heidi Heitkamp has been rumored to be planning to run for President in the upcoming 2020 Elections.