Trudi Inslee is the current First lady of Washington. She came to be in the position after her husband Jay Inslee succeeded Christine Gregoire as Governor of Washington on January 16, 2013. Trudi and Jay are married for around 34 years.
Early Life and Education
Trudi Inslee was born in Washington. Raised by her parents, Trudi went to Ingraham High School for early education. For undergraduate education, Inslee joined Washington State University and graduated with a political science and sociology degree.
Personal Life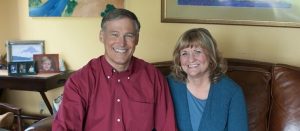 Trudi Inslee met her future husband Jay Inslee while at Ingraham High School. The couple remained intact and finally married in 1972. Four years later, they moved to Saleh and had three kids. As alfalfa farmers, the Inslee couple brought up their children in a farmhouse.
Career
While Inslee couple's children were young, Trudi Inslee spent most of her time caring for them. As they grew up and enrolled into schools, Inslee started volunteering in their schools. Besides, she also got involved in several non-profit organizations mainly focussing women and children welfare.
As First Lady, Trudi Inslee has vowed to prioritize rescuing sexually assaulted women and children, supporting homeless and poverty-stricken people. Likewise, as of today, Inslee is actively collaborating with various organizations and initiatives to ensure health care and educational opportunities.
As a member of the NARAL Pro-Choice Washington, Trudi Inslee has been advocating for women rights to make personal decisions on various issues such as reproductive health, sexual matters, etc. In contradiction to Trump's stand, NARAL Pro-Choice is striving to prevent pregnancy and advocate for legal abortion. The organization is one of the largest in the state with over 35,000 members. Likewise, Trudi is also a member of Mothers Against Violence in America, which brings together women and works to reduce domestic violence.
Because of Trudi's life-changing involvements, she has been named of the Court Appointed Special Advocates. Likewise, she also works under Planned Parenthood.
Donald Trump and Trudi Inslee
US President Donald Trump and Washington First Lady Trudi Inslee differ contrastingly in terms of abortion. While Trump is a pro-life, Inslee is a pro-abortion. As per Trump's newly proposed policies, US federal government will cut any kind of funding on abortion-related acts. This move might affect Inslee's efforts as well due to her organizational dependency on federal funding.
Talking about Trudi's husband, Governor Inslee has always been an outspoken critic of Republican leaders. The same goes with his stance on President Trump. On Trump's immigration order and travel ban, Governor Inslee has been very ruthless. He called this move a sign of 'cruelty'.
As per The Seattle Times, Inslee seems more concerned after he met President Trump and discussed immigration and health. He said, "I feel more concerned about that now than when I landed Thursday night."
https://www.youtube.com/watch?v=ESoB5iVAq_4