Last updated on September 5th, 2018 at 12:02 pm
Donald McGahn is a former commissioner and chairman of the Federal Election Commission. McGahn is a partner at Jones Day and currently works for Donald Trump Presidential Campaign 2016.
Synopsis
Donald F. McGahn is a former member of the United States Federal Election Commission. He was confirmed June 24, 2008, by the United States Senate and was sworn in shortly thereafter, serving until September 2013. After leaving the FEC, McGahn joined the law firm of Jones Day in Washington, D.C.
Donald F. McGahn represents advises elected officials, political consultants, national state parties, candidates and others on political law issues. McGahn is the former member of the U.S. Federal Election Commission (FEC) served as a commissioner and chairman. McGahn virtually rewrote advisory opinions, all of the FEC's procedures for audits and enforcement matters which provide for the unprecedented amount of a due process. Several authored opinions of McGhan represent the current state of the law regarding issues such as issue advocacy, coordination, political party programs, campaign travel, and emerging technologies.
McGahn has counseled and also defended the members of Congress, Federal state candidates, corporations and corporate PACs, leadership political action committees (PACs), national and state political party committees, nonprofits and political consultants, trade associations. The campaign which is related to representations has included the regulation of direct mail, radio and broadcast television, telephones, polling, ballot access, defamation, get-out-the-vote, voter identification, election day operations, election contests and recounts, and party conventions.
McGahn had the first successful defenses for 527 issue group against the FEC enforcement action prior to joining to Jones Day in 2014. McGhan served for 10 years for the National Republican Congressional Committee as general counsel, where he had introduced several innovations.
In the Personal life of Donald McGahn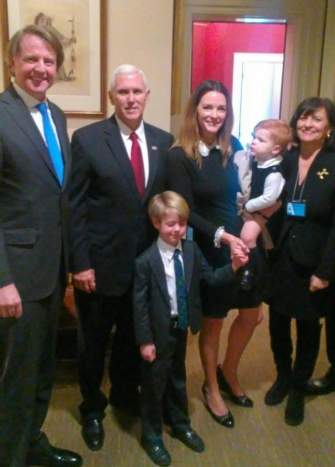 Donald McGahn was born in Atlantic City, NJ In 1991, McGahn graduated from the University of Notre Dame. In 1994, McGahn received his law degree from Widener University. Donald McGhan married Shannon McGhan.
Professional Life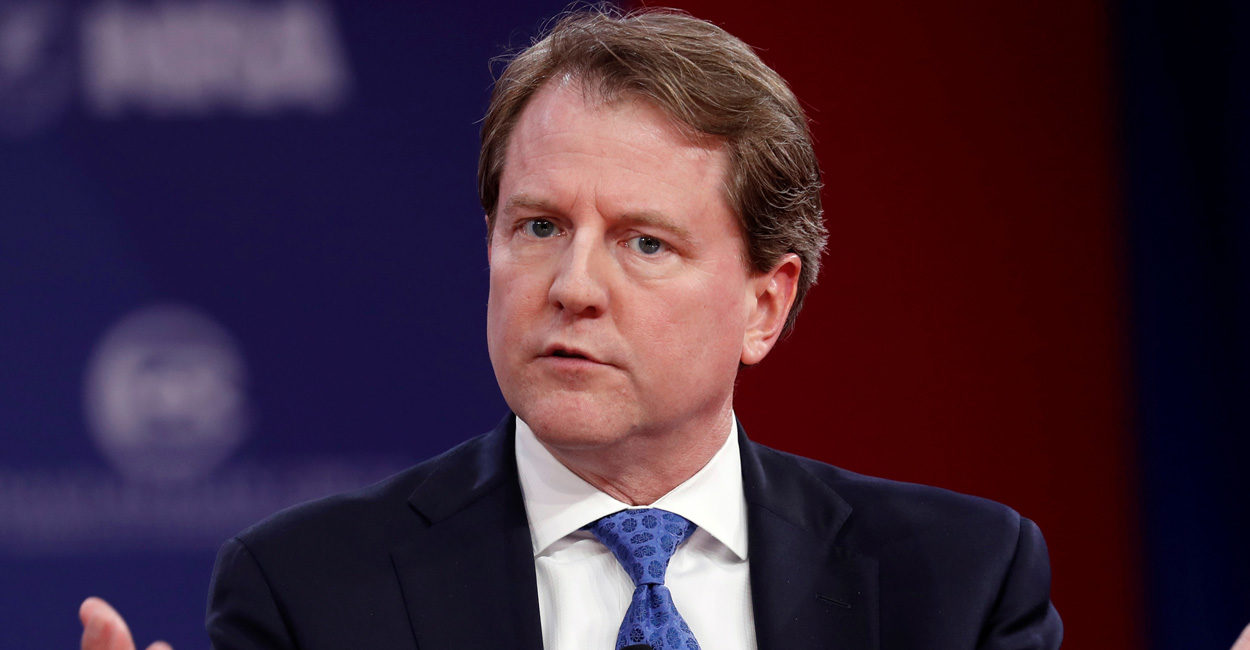 In 1999, McGahn joined National Republican Congressional Committee (NRCC) as general counsel, where "he introduced several innovations, including what has become the standard structure for making independent expenditures." McGahn was for a time an in-house lawyer for the National Republic Congressional Committee. In 2008, McGahn was nominated to the FEC by Former President George W. Bush, where he oversaw major changes in campaign finances laws. McGahn has been a critic of campaign finance regulation. He served as commissioner for Federal Election Commission from 2009 to 2012. He represented the campaign of former House Majority Leader Tom DeLay of Texas.
In 2013, McGahn rejoins his former firm, Patton Boggs, as a partner and then moved to Jones Day as a partner since 2014. McGahn now works from Donald Trump's Presidential Campaign 2016.
The career of Donald McGahn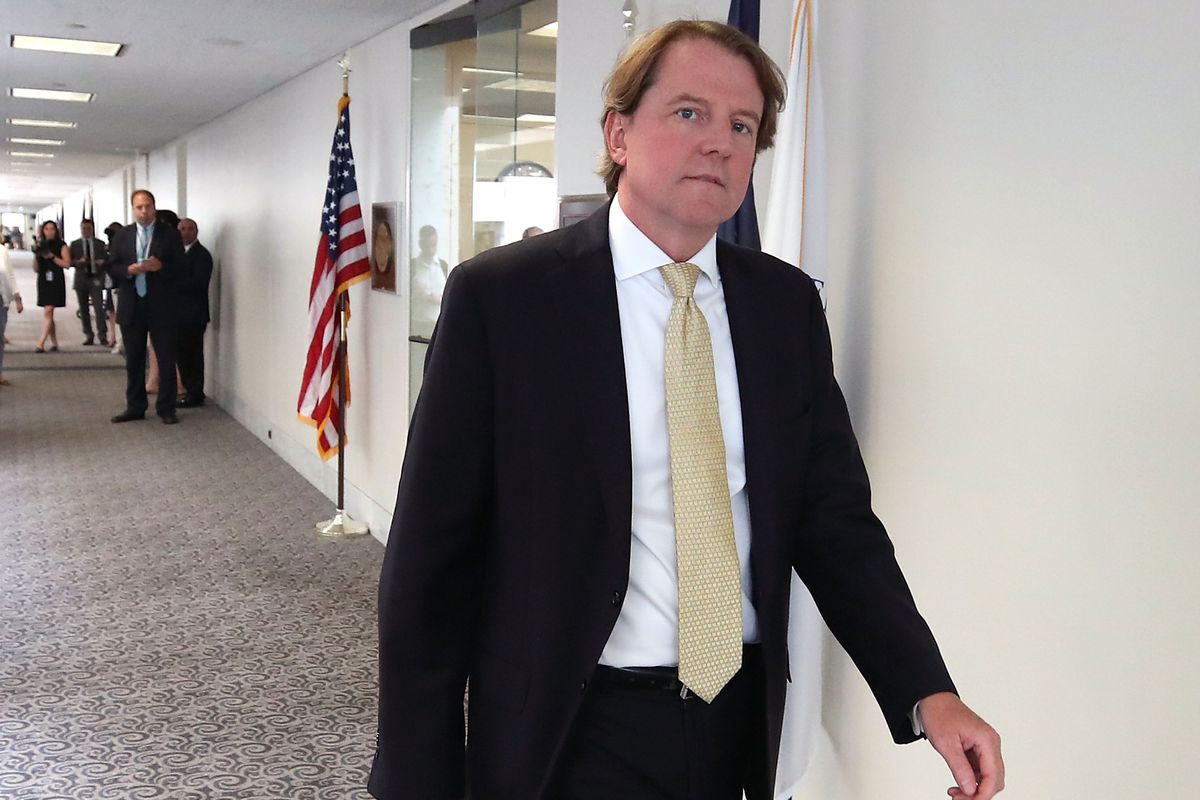 McGahn recommended Trump to nominate Neil Gorsuch to replace Antonin Scalia personally. He also recommended Brett Kavanaugh to replace Anthony Kennedy on the Supreme Court. A team of lawyers was assembled by McGahn to
oversee filling all judicial vacancies. By November 11, 2017, President Donald Trump had already appointed ten appellate judges guided by the team of lawyers. McGahn had conveyed instructions from President Trump to Attorney General
Jeff Sessions, according to the New York Times. He had requested Sessions not to rescue himself from overseeing investigations into Russian interference in the 2016 Presidential election. A report was made by The New York Times in January 2018, that in June 2017, the President asked McGahn to instruct top Justice Department officials. He did so to dismiss special counsel Robert Mueller.
McGahn refused it and then threatened to resign. On August 18, 2018, The New York Times reported that McGahn had been cooperating with the Special Counsel investigation for months. President Donald Trump announced on August 29, 2018, that McGahn will be leaving his position in the fall. It was announced shortly after the confirmation of Judge Brett Kavanaugh to US Supreme Court. President said that he had worked with Don for a long time and he appreciates his service.
The Net worth of Donald McGahn
It has been many years since Donald McGahn started his career and he has earned a lot. His estimated net worth is $5 million. His salary while working at White House was $180 thousand. He also made $2.5 million while working for Jones Day International Law Firm. As a hobby, he likes to play guitar and also has played in an 80s cover. He has sung in funerals, wedding, and many other events. He made $5000 earning from the band.
Donald Trump's Presidential Campaign 2016
McGahn has advised Donald Trump's presidential campaign for 2016 election cycle and served as chief counsel for Rick Perry's presidential campaign.