Anthony Kennedy is the incumbent Associate Justice of the Supreme Court of the United States, having assumed office on February 18, 1988 as the successor of Lewis Powell. Formerly, he was Judge of the United States Court of Appeals for the Ninth Circuit (1975 – 1988).
Early Life and Education
Anthony McLeod Kennedy was born on July 23, 1936 to father Anthony and mother Gladys Kennedy. Raised in Sacramento, California, Kennedy always remained an enthusiastic high schooler who had contacts with Californian Governor and other prominent politicians. After high school, Kennedy went to Stanford University for undergraduate education. While at Stanford, Kennedy did his study abroad program at London School of Economics in the UK. Graduating from Stanford, he joined Harvard Law School for an LLB degree.
Personal Life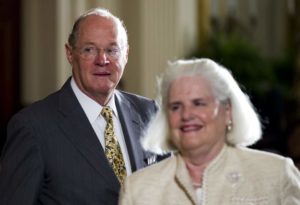 Anthony Kennedy is married to Mary Davis for more than half a century. The couple has three kids.
Career
Completing LLB from Harvard Law School, Anthony Kennedy joined a private law firm and worked there for two years i.e. until 1963. In 1963, he moved back to Sacramento and started managing his father's law practice firm. Kennedy remained in the position until 1975 and, in the meantime, also joined McGeorge School of Law as a professor of Constitutional Law. During this period of time between 1965 and 1988, Kennedy served in various other positions as well: Board of Federal Judicial Center (1987 – 1988), Advisory Panel on Financial Disclosure Reports and Judicial Activities (1979 – 1987) and Committee on Pacific Territories (1979 – 1990). Likewise, from 1975 to 1988, Kennedy was also the Judge of the US Court of Appeals for the Ninth Circuit.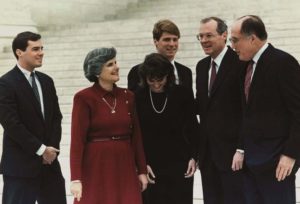 In 1987, President Ronald Reagan nominated Anthony Kennedy for the post of Associate Justice of the Supreme Court of the United States. Confirmed by the US Senate on February 3, 1988, Kennedy joined the US Supreme Court on February 18, 1988 by succeeding Lewis Powell. On Jurisprudence, Kennedy is well-known as a person who doesn't like to follow a particular ideological path. Likewise, he has always been an opponent of abortion among the minor youths and an outspoken advocate for gay rights and their protection.
On capital punishment, Anthony remains relatively stiff against executing under-18 minors and mentally ill people. Similarly, he fully supports gun control and even joined hands to bring down gun bans in District of Columbia. Throughout his judicial tenure, Kennedy has presented himself as a conservative person. As of 2005, his rulings tend to be on the majority side 92% of the time.
Donald Trump and Anthony Kennedy
Anthony Kennedy is a probable US Supreme Court retiree. If he does so, it means that Trump would get a second pick on US Supreme Court Justices.