Last updated on September 27th, 2016 at 03:41 pm
Donald Trump Jr is the first heir to the real estate developer Donald Trump and model Ivana Trump. He along with his brother Eric Trump have been leading surrogates to Republican Presidential Nominee campaign for their father.
After their parents divorced when Donald Jr was 13 years old, they moved to Aspen to live with their mother and grandmother, where they took their care. They did not have their father to snuggle when they watch TV or fatherly love, but Donald Jr surely was inseparable to his siblings, Eric Trump and Ivanka Trump .They were up brought in the society to have a kind and generous persona  as compared to their father by Ivana's parents.
Although Republican nominee Donald Trump is accused of being sexist and misogynist. Ivana made Donald Jr read about AIDs several time, which he was afraid of the sexually transmitted diseases. This somehow stopped Donald Jr from being a womanizer.
Donald Jr has a reserved personality but has appeared in his father's reality TV show, "The Apprentice" as "guest judge" or "board adviser" .He is considered a brat who hunts, camps, loves partying and lived out of the back of a truck.
Later his quest for the life changed, he earned a degree in Economics and started spending some time with his father at his father's construction sites. He handles Trumps' assets in India and Indonesia.
Donald Trump; the cupid in Donald Trump jr. and Vannesa Haydon's story
Donald Trump played the role of cupid to fix his own son marriage when he introduced a young appealing model, Vanessa Haydon to Donald Jr .That was not love at first sight but next meetings entangled them to the strongest bond after they tied their knot at Trump Sr's Sprawling "Sea-to –Lake" Club in Palm Beach, Florida. It is after nine years they are happily married to five children together.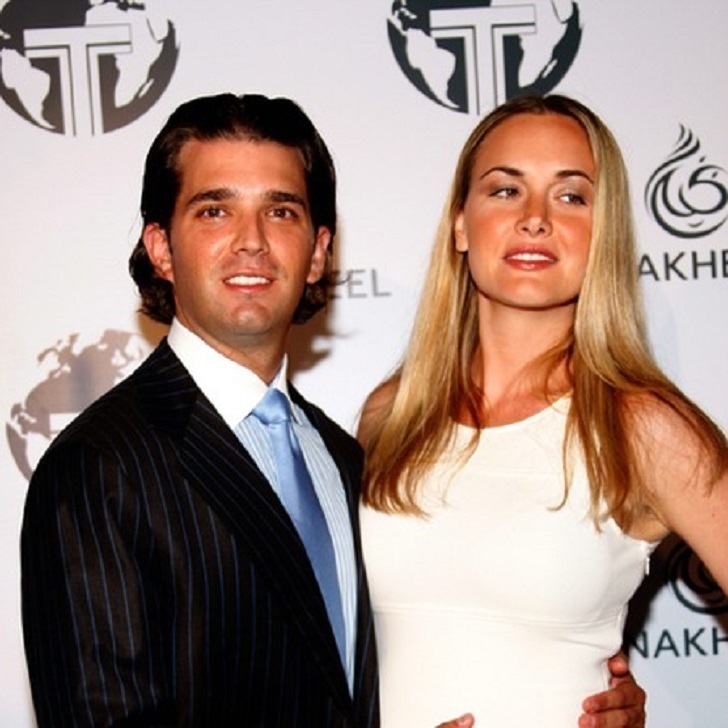 Donald Trump Jr. in Republican campaign
The Republican Nominee campaign was aired and the photos of Donald Jr and Eric holding "trophies" of the murdered animals, let the public conclude they are spoiled brats. They wouldn't apologize for that, they would have to pay hefty dues for killing animals.
Although he along with his siblings has been advisors to humanize the public speaking /speech as to not lose ground and run a more  conventional  campaign, He has been a close advisor to his father. He has seen his father thrive to get the impossible done, so he sets into the real mission of getting it. He was trained in business to make the arduous decision.
He justified his father as the best nominee for republican president because he is the one who hadn't  run for office before 16 years and is standing up competing  16  professional politicians .He believes that his father judges people on the basis of their work ethic and potentials rather than on degrees and  credentials. He seems like the potential future candidate, as he delivered the speech at RNC (Republican National convention).  His remark about their schools used to be an elevator to the middle class and now they're stalled on the ground floor.
His well-versed lies are dangerous than his father's words. Like his step mom Meliana, he is good at parroting phrases. He is proud that he is trump .He introduced himself as the son of a billionaire to the world framing himself as the one with the scion of a wealthy family.
The November heat will decide whether to somersault Trump's faith to a win –win or defeat state.