Last updated on November 26th, 2016 at 05:23 am
"My dad is my superhero. He is the first person I think of when I am in trouble."
For every daughter their father is literally the world and Tiffany Trump and Republican Party nominee for US elections 2016; Donald Trump is no exception because his daughter is all praises for him.
Tiffany Trump who recently graduated from Wharton Business School from the University of Pennsylvania like her Dad complimented him as her source of support all the time in the Republican National Convention 2016 held in Cleveland.

When Marla Maples and Donald Trump got married in December 1993 they already had a symbol of their love. Tiffany Trump was born on October 13, 1993, to Marla Maples and Donald John Trump after Donald Trump divorced Ivana Trump. Donald Trump had an extramarital affair with Marla Maples while he was in relation with Ivana Trump. Donald Trump had three children from his first wife namely Donald Trump Jr, Ivanka Trump and Eric Trump. However, Marla Maples and Donald's relation was short lived as well because the couple soon divorced each other. Although Tiffany is the only child of Donald from second wife Marla he does have another son from his present wife Melania Trump who is named as Baron Trump.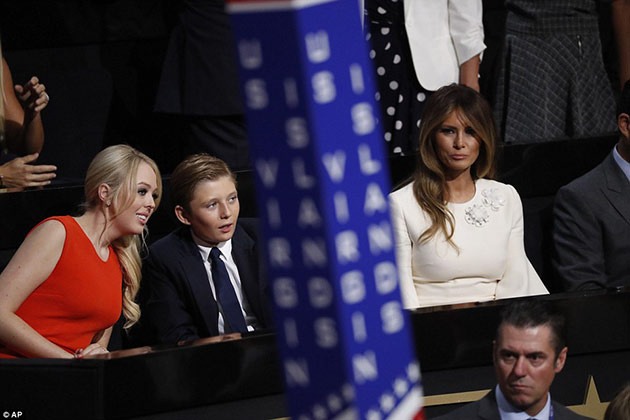 In spite of the fact that Marla Maples and Donald Trump soon divorced each other Tiffany Trump has always claimed that the President Nominee is her superstar. In the Cleveland function, Tiffany was literally seen worshipping her dad and going all praises for him. She quoted him as a person who has never backed away from challenges and added that he is a man of action more than words. According to her President nominee Donald Trump is a very good man who is very specific in his work. In fact, Tiffany Trump also shared that these are the qualities due to which Tiffany adores her father and is literally her superhero.

Yet the most interesting part of this father-daughter relationship is that Tiffany Trump is dating a boy from her graduate school who is an avid Democratic supporter. Ross Mechanic who Tiffany met in Wharton Business School also attended the Republican national Convention with Tiffany and was seen hearing Donald's speech. Still, the question that resides in the head is that now will Donald Trump himself have a problem with this? Or is he rather the man who does not mix political and personal life?

Will Tiffany still be daddy's little princess? We got to see. Tell us your comments below.