Patrice Failor is the wife of former Director of the Federal Bureau of Investigation James Comey, who was dismissed on 9 May 2017 on the allegations that he mishandled Hillary Clinton's email investigation.
Early Life and Education
Patrice Failor is an American by descent. After high school, she went to William and Mary College where she met her future husband James Comey.
Personal Life
Meeting at William & Mary College in 1978, the Comey couple has stayed together ever since. They graduate in 1982 and got married in 1987. The couple currently had six children: Maurene, Brien, Abby, Collin, Claire, and Kate Comey. They lost their fourth child, a 9-day-old son, in 1995 due to a Group B strep infection. Patrice has an advocate of curing preventable diseases. In an op-ed article, she writes: "MY BABY DIED a month ago today. He was nine days old. Collin Edward Comey was killed by a preventable infection. I am sharing our tragedy so other mothers' babies might be saved."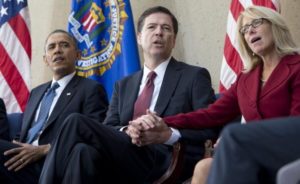 Among her five children, Maurene went to William and Mary College and Harvard Law School. All five of the children were raised in Northern Virginia and Iowa.
Career
Patrice Failor hasn't had a smooth particular career path. She has worked as a Bridgeport Superior Court Volunteer and a foster mother. Likewise, she is also an advocate for foster children. Failor appeared in the juvenile justice system and said, "Every foster child in this great state gets a lawyer. These lawyers each has up to 100 cases, but once they have a case they're to express the best interests of the child in court. And if the lawyer or the judge or anyone feels that what the child wants is in conflict with their best…then he can ask for an advocate for the child separate."
With James' career booming, the Comey family is worth a whopping $11 million. they have a $3-million home in Westport, Connecticut and $5 million worth of stocks in Exxon Mobil, Berkshire Hathaway and a few other companies.
Donald Trump and Patrice Failor
Following the recommendation of Jeff Sessions and Rod Rosenstein, President Donald Trump fired James Comey, husband of Patrice Failor, from the office of Director of the FBI on May 9, 2017. According to BBC, Comey was fired for poorly handling the case against Hillary Clinton on email controversy. However, the opposition says that the action took place as Comey was investigating the Russian Election Interference issue which could have revealed the speculated alleged links between Trump and Vladimir Putin.