Patty Murray is the incumbent US Senator from Washington who assumed office on January 3, 1993 as the successor of Brock Adams. Formerly, Murray was a member of the Washington Senate from the 1st District from 1989 to 1993.
Early Life and Education
Patty Murray was born on October 11, 1950. She was raised by father David Johns and mother Beverly McLaughlin with six other siblings. After graduating from a local school, Murray joined Washington State University where she earned an undergraduate degree in physical education.
Personal Life
Patty Murray is in a marital relationship with Rob Murray. The couple has two children named Sara and Randy.
Career
Graduating from Washington State University, Patty Murray become a college teacher at Shoreline Community College. She was even in the Board of Directors of Shoreline School District. In 1988, Murray decided to run for the Washington State Senate from the 1st District and subsequently won the election with 54% votes. Then, in 1992, Patty ambitiously decided to run in the Democratic primaries for the US Senate. She received the Democratic nomination with 57.91% votes and later faced Rod Chandler in the Senate election. Murray defeated Rod with 53.99% votes as opposed to Rod's 46.01%.
As the first term was about to terminate, Murray sought for another term in the office. She easily grabbed the republican nomination with 94.78% votes and defeated Linda Smith in the Senatorial Election. Murray surpassed Linda by over 300,000 votes. In 2004, Murray ran for the third term and defeated George R. Nethercutt Jr. to retain her position as US Senator. To follow up, she was a clear winner in the 2010 Senatorial Election as well.
In the 2016 Senatorial Election, Patty was challenged by three other Democrats. Having defeated the fellow candidates, she joined Chris Vance in the general election. Murray won the election with odds of 3:2. As a Senator, Patty has already served in the following committees and caucuses:
Committee on Appropriations
Committee on Veterans' Affairs
Committee on Health, Education, Labor, and Pensions
Committee on the Budget
Senate Oceans Caucus
Senate Aerospace Caucus
Patty is currently the Senate Assistant Democratic Leader (since January 3, 2017) and a ranking member of the Senate Health Committee (since January 3, 2015). In the past, Murray has served as Secretary of the Senate Democratic Conference (2007 to 2017), Chair of the Senate Budget Committee (2013 to 2015) and Chair of the Senate Veterans' Affairs Committee (2011 to 2013).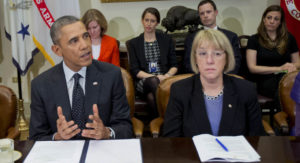 In the 2008 Presidential Election, Patty was a strong supporter of Hillary Clinton. However, she later backed Barack Obama.
Donald Trump and Patty Murray
As a representative of the Democratic party, Patty frequently opposes Donald Trump and his picks for several positions. She was particularly critical about Trump's nominees for Education Secretary Betsy DeVos and Health and Human Services Secretary Tom Price. Here are the videos what feature the questioning sessions of these two Trump picks:
To Betsy DeVos
https://www.youtube.com/watch?v=Jhec9r5movw
To Tom Price
https://www.youtube.com/watch?v=095CKNNr_bo
Murray on Trump's lewd comments on women: