John Barrasso is the incumbent US Senator from Wyoming who assumed office on June 22, 2007 as the successor of Craig Thomas. Previously, Barrasso was a member of the Wyoming Senate from the 27th District from 2003 to 2007.
Early Life and Education
John Barrasso was born on July 21, 1952. Raised by father John Anthony and mother Louise, Barrasso went to Central Catholic High School. After high school, he joined Rensselaer Polytechnic University. Soon enough, he transferred to Georgetown University for undergraduate studies in BSc. After bachelor's degree, John joined Georgetown University School of Medicine for an MD.
Personal Life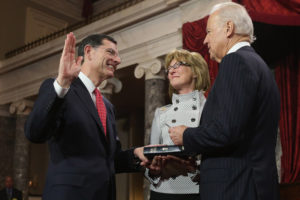 John Barrasso is currently married to Bobbi Brown. The couple has remained tied for more than eight years now. Previously, John was in a marital relationship with Linda Nix with whom he had a son named Peter and two daughters named Emma and Hadley.
Career
Graduating from Georgetown University School of Medicine, John became a private orthopaedist. Alongside this profession, John was heavily engaged in numerous organizations such as Wyoming Medical Center, National Association of Physician Broadcasters, Wyoming Medical Society and American Medical Association. Interestingly, Barrasso has already worked as a top executive in each of these organizations.
As a talented orthopaedist, John was a physician for Professional Rodeo Cowboy's Association and Casper College. For his unparalleled service to the medical community, John was commemorated with the title of 'Wyoming Physician of the Year', 'Legislative Service Award' and 'Medal of Excellence'.
In 1996, John Barrasso decided to turn his passion for serving community towards politics. Barrasso primarily appeared as the strongest candidates for the Republican nomination but unfortunately lost against Mike Enzi. In 2002, John decided to run for the Wyoming Senate. Unopposed, Barrasso won the election in both 2002 and 2006. Then, he again turned his eyes towards the US Senate.
In the 2008 Senatorial Election, John had a landslide victory against Democratic Nick Carter with 73.35% votes in favor. Likewise, John won the Republican nomination in 2012 and went on to face Tim Chestnut in the Senate Election. Interestingly, he saw another massive victory with a 75.9% – 21.6% margin. As a member of the US Senate, John has already involved himself in the following committees:
Committee on Energy and Natural Resources
Committee on Environment and Public Works
Committee on Foreign Relations
Committee on Indian Affairs (Chairman)
Impeachment Trial Committee on the Articles against Judge G. Thomas Porteous, Jr.
During the time in the above committees, John has chaired the Senate Indian Affairs Committee from 2015 to 2017 and has been chairing Senate Environment Committee since January 3, 2017.
John Barrasso and Donald Trump
Donald Trump is a pro-life and John Barrasso is a pro-choice. However, they agree on some other issues such as repealing Obamacare, supporting gun laws and skepticism on climate change.