Dorothy McAuliffe is the incumbent First Lady of Virginia who took office as her husband Terry McAuliffe succeeded Bob McDonnell as Governor of Virginia on January 11, 2014. As First Lady, McAuliffe is determined to prioritize child hunger and agriculture production in Virginia.
Early Life and Education
Raised in the State of Virginia, Dorothy McAuliffe joined the Catholic University of America for an undergraduate degree in political science. After graduation, she joined Georgetown University Law Center for a Juris Doctorate degree.
Personal Life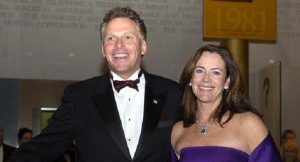 Dorothy McAuliffe is married to Terry since 1998. The couple has five children: Peter, Sally, Dori, Mary and Jack McAuliffe. The family currently lives in Virginia Governor's Mansion in Richmond. Previously, they lived in McLean.
Career
Graduating from Georgetown University Law Centre, Dorothy entered the legal world as a specialist in banking and securities. Having worked as an advocate for several years, Dorothy apparently entered the American politics as First Lady of Virginia. Under this capacity, McAuliffe is striving to make a difference in the community by reducing child hunger and encouraging agricultural production in Virginia.
As Chair of the Commonwealth Council on Building the Nutritional Divide, Dorothy is currently building the foundation of her pathway to eliminating child hunger, flourishing agriculture and increasing consumption of organic local food. Likewise, the foundation also focusses on the improvement of education and health services. Besides, Dorothy also spends time finding different ways to support current military people and veterans.
In order to ease the process of military personnel's children enrolment into schools, Dorothy is an active member of the Virginia Council on the Interstate Compact on Educational Opportunity for Military Children. It's believed that children of military people find difficulty in joining schools after keeping away from parents because of numerous deployments.
Most importantly, Dorothy McAuliffe's efforts to create training opportunities, solve grassroots problems and elevate national service has led the state of Virginia to become one of the largest employers in national service. As a knock-on effect, this type of progress leads to a decrease in the unemployment rate and, hence, poverty.
In addition to working for the community welfare, McAuliffe's priorities are largely concentrated into preservation and promotion of arts and cultures. As a board member if the Kennedy Center for the Performing Arts and the Smithsonian Institute, Dorothy is contributing towards arts and culture promotion for long-term tourism and educational benefits. As an admirer of Virginia's natural beauty, McAuliffe's works indeed benefit nature too.
Donald Trump and Dorothy McAuliffe
Dorothy McAuliffe is not closely linked to Donald Trump, but her husband is. US President Trump and Virginia Governor McAuliffe are fundamentally different leaders. First thing, they mostly disagree on political and economic issues, being the representatives of two opposing parties.
On Trump's immigration order, McAuliffe has vowed to fight against the President and in favor of the lawsuit Aziz vs. Trump. Likewise, there were rumors that McAuliffe might run for Presidency in 2020 elections. However, the speculations have been waived off by Governor McAuliffe himself.