Peggy McMaster is the incumbent First Lady of South Carolina. She has been in the office since January 24, 2017 as her husband Henry McMaster succeeded Nikki Haley as Governor of South Carolina. Peggy is a former flight attendant for United Airlines.
Early Life and Education
Peggy McMaster was born in Spartanburg, South Carolina to father Thomas Wales and mother Mary Rogers McAbee. Raised with three siblings, McMaster went to Spartanburg High School for early education. Graduating from Spartanburg, she joined Spartanburg Junior College.
Later, Peggy went to the University of South Carolina for degrees in business administration and fashion.
Personal Life
Peggy McMaster was a flight attendant when she met her future husband Henry McMaster, then a fresh mind into politics and a legislative assistant for a Senator. The couple got married in First Baptist Spartanburg Church in 1978. They have two children – Henry Dargan and Mary Rogers – and a dog – Boots.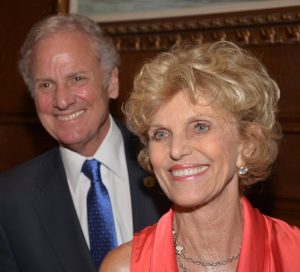 Career
Leaving Spartanburg Junior College, Peggy became an employee of the United Airlines. As a flight attendant, she traveled to different parts of the United States with people of varying importance. After meeting in a flight, Peggy and Henry started going out and finally married in 1978. Consequently, they moved to Columbia, South Carolina. While Henry remained busy with his thriving political career, Peggy entered the University of South Carolina to fulfill her vocation for business and fashion.
Learning much about business administration from the University of South Carolina, Peggy McMaster commenced her own small business named The Parasol Boutique. She remained on the market for 17 years.
On January 24, 2017, Peggy McMaster became First Lady of South Carolina as her husband Henry McMaster succeeded Nikki Haley as Governor of South Carolina. As First Lady, Peggy is still trying to find out which sector she would like to support. However, she is already involving herself in various religious and social activities.
Peggy is currently the President of Women of the Church of First Presbyterian in Columbia. Likewise, she is a member of Bible Study and Women's Circle. In community service, McMaster is engaged in Laurel Crest Retirement Community and Sistercare as a board member. In addition, she is also an active member of Columbia Garden Club.
Donald Trump and Peggy McMaster
Peggy McMaster remains relatively less-renowned than any of the other First Ladies. Hence, Donald Trump might not be as familiar with her. However, Peggy's husband, Henry McMaster, is a close ally to Donald Trump. According to Breitbart, President Trump's decision to nominate Nikki Haley for US Ambassador to the UN necessarily elevated Henry McMaster. Recently, McMaster asked for $5 billion of federal funding to renovate South Carolina's roads.