Carol Mead is the incumbent First Lady of Wyoming who has been in the office since January 3, 2011. Her husband and Governor of Wyoming Matt Mead is the successor of Dave Freudenthal. Carol believes children to be the greatest assets, hence working to make their lives better and full of opportunities.
Early Life and Education
Carol Mead was born in Wyoming. The information on her early educational background in not openly available. However, after high school, she went to the university of Wyoming for double undergraduate studies in business sector and medicine.
Personal Life
Carol Mead is married to Matt Mead since 1991. The couple has two children: Mary and Peter Mead.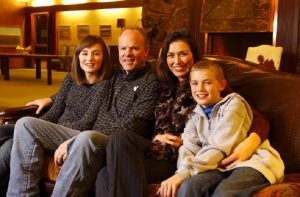 Career
Completing double major from the University of Wyoming, Carol Mead started off her career in preventive medicine. As the time went by, her career skipped to other sectors such as pharmaceuticals and real estate. Likewise, she also entered health care services as an employee of Cardiovascular Institute of Stress Medicine. At some point, Mead worked for Park Davis and had to move to different states during that time.
Now, as First Lady of Wyoming, Carol Mead is completely putting her energy into improving the lives of Wyoming Children. Primarily, she is a believer in education. This particular belief has led her to become focused on children's ability to read as a primary schooler. In collaboration with the University of Wyoming College of Education, Mead founded a literacy research center. Likewise, she also travels around the state participating in reading activities in different libraries and schools.
In addition, Carol's initiative called Eat. Read. Grow. is aimed at encouraging families to dine together and teach their children to read. The initiative also distributes free books to children who attend. Carol wrote her own book titled Wyoming Firsts which has been distributed to over 20,000 first graders.
Besides literacy, Mead's concern is also on the lifestyle of Wyoming youths. Via memberships of different organizations such as Prevention Management Organisation of Wyoming and Wyoming Department of Health, Mead has been working to develop a healthy and safe Wyoming. Similarly, the initiative, Talk Early and Hard, is aimed at encouraging parents to guide children when it comes to alcohol consumption or any kind of substance abuse.
Interestingly, Carol Mead has been taking the help of art in order to create a healthy and balanced childhood. By establishing yearly First Lady's Young Artist Showcase at the Governor's Residence, Carol Mead exposes the young artists of Wyoming High School Art Symposium to the Wyoming community.
Donald Trump and Carol Mead
It's hard to tell any differences between Carol Mead and Donald Trump. However, there is a slight difference in agendas of US First Lady and Wyoming First Lady: While Carol Mead is working for the betterment of children as a whole, Melania Trump wants to be an advocate against cyberbullying.
To talk about President Trump and Mead's husband Matt, Governor Mead was speculated to be having a spot in administration as Trump won the presidential election. According to the sources, it was later revealed that Mead wasn't interested at all in working in the new administration. However, he has always backed Trump, his presidential bid and his newly-appointed administration. Likewise, Governor Mead is hopeful that President Trump will help reverse Wyoming's declining energy sector.