Last updated on September 16th, 2018 at 08:12 am
Cecilia Abbott is the current First Lady of Texas who has been in the office since January 20, 2015, as her husband Greg Abbott succeeded Rick Perry as Governor of Texas. According to the Texas governor's website, Cecilia Abbott is someone who 'reminds us all that the American dream is alive and well in Texas'.
Early Life and Education
Cecilia Abbot is a Mexican-decent woman who was brought up in San Antonio, Texas by her educator parents. As a child, she went to a local school with three other siblings – two brothers and a sister. After high school, Cecilia joined the University of Texas at Austin. Later, she transferred to the University of St. Thomas and completed an undergraduate degree in psychology. Coming back for post-graduate education to the same university, Cecilia Abbott earned degrees in education and theology.
Personal Life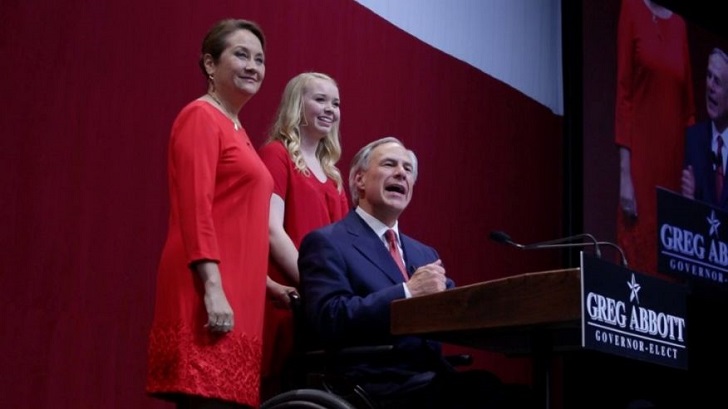 Cecilia Abbott is married to Texas Governor Greg Abbott since 1981. The couple lives in Austin and has a daughter named Audrey and two dogs named Oreo and Pancake.
Career
Graduating from the University of St. Thomas, Cecilia Abbott became obliged to teaching as a professional career. Primarily, she was just a teacher but gradually moved on to several higher positions such as vice principal and principal. In 2001, she retired from Cathedral School of St. Mary after serving as a Principal for 5 years i.e. from 1996 to 2001.
Leaving education sector, Cecilia Abbott entered the healthcare sector, working as a managing director of community relations for a reputed health service provider. She started the job in 2004 and officially quitted in 2013 to completely shift her focus on responsibilities as the First lady.  Cecilia has been on the boards of several organizations:
The University of St. Thomas Board of Directors
Huston-Tillotson University Board of Directors
Saint Gabriel's Catholic School Board of Trustees
Cathedral School of Saint Mary Advisory Board
In addition, Cecilia has also kept herself busy by engaging in Women's Symphony League of Austin, Meals on Wheels and Dell Children's Women's Trust. Likewise, Abbott was on the State Board for Educator Certification for eight years from 2001 to 2008. Also, under Alzheimer's Association Capital of Texas Chapter, Cecilia Abbott contributed to raising awareness about the disease Alzheimer. Moreover, at different points, Cecilia Abbot was also involved in the following organizations:
National Center for Missing and Exploited Children Texas Regional Office
Holy Trinity Seminary
Catholic Diocese of Austin Schools
Ballet Austin
Principals' Center at Harvard Graduate School of Education
Donald Trump and Cecilia Abbott
Cecilia Abbot is a Mexican by descent. Hence, it's plausible to say that she might not be happy with where President  Donald Trump stands against Mexico. However, her husband Greg Abbott seems to be a Trump supporter. As Abbott said after President Trump's win on November 8, Trump win puts Texas in a much stronger position than before. He added, "There's a great similarity between what President-elect Trump stands for and will be working to achieve and what Texans will be working to achieve." As per his other statements, it's also clear that Abbott completely supports Trump's proposal of building a wall between the US and Mexico.
Facts & Updates
Three years later of her marriage, in 1984, her husband Gregg Abbott suffered a freak accident while jogging with a friend. Due to a strong storm, an oak tree weakened and fell on him which results in him paralyzed from the waist down. According to the Dallas Morning News notes, he then sued the property's owner and he received an estimated $10 million.
Later in an interview with Texas Monthly in 2013, he said that "I'll tell you this astonishing fact: Cecilia and I believe our lives are better after the accident than before,". "I think there's a greater appreciation for life." While talking about her children then she has a daughter named Audrey whom the couple had adopted. Audrey is now 20 years old and is studying at the University of Southern California. There she is studying communication and is expected to graduate in 2019.
However, in 2014, she has worked on her father's campaign. Similarly, in Austin, she has also interned at Music One Media and W20 Group. After her adoption, the couple became involved with an Austin adoption home according to the report of Pat Mizell, an Abbott family friend.
Awards
Recently in 2018, she announced the 2018 award recipients which meant the Governor's Volunteer Awards, administrated by One Star Foundation. It honors the contributions of individuals, businesses, and organizations in Texas that have made a positive impact in their communities through service and volunteering.
There Mrs. Abbott has made promoting volunteerism and service to others and announced the award recipient which includes such as:
1) Governor's Lone Star Achievement Award – John Poston
2) First Lady's Rising Star Award – ZeeShawn Wani
3) Service To Veterans Award – MISSION UNITED
4) Partners In Education Award – Fidelity Investments
5) Higher Education Community Impact Award – The University Of Texas At El Paso
6) Corporate Community Impact Award – TeamCITGO
7) Community Leadership Award – Individual – Marissa Vogel
8) Community Leadership Award – Organization – Rust Street Ministries
9) Community Leadership Award – Innovation – Katy Bourgeois
10) National Service Make A Difference Award – Senior Corps – Linda And Ron Aten
11) National Service Make A Difference Award – VISTA – Sara Lamog
12) National Service Make A Difference Award – AmeriCorps – David Porter, IV
13) The Governor's Commission For Women Human Trafficking Prevention Award – Toni McKinley
14) The Governor's Commission For Women Disaster Relief Assistance Award – Marie Flickinger
15) The Governor's Commission For Women Texas Women Economic Empowerment Award – Roslyn Dawson Thompson