Quick Info about Keenan Wallace Dunham
Full Name

Keenan Wallace Dunham

First Name

Keenan

Middle Name

Wallace

Last Name

Dunham

Born Name

Keenan Wallace Dunham

Birth Place

United States

Nationality

American

Ethnicity

White

Profession

Politician

Net Worth

$1 million - $5 million

Facebook

https://www.facebook.com/Dunham2020

Twitter

https://twitter.com/KDunham4Peace
Keenan Dunham is a popular American Politician serving the Libertarian political party. He is one of the candidates running for the Presidential Election this year in the USA. And also one of the candidates in the 2016 Presidential Election.
Early Life:
Keenan Dunham was born as Keenan Wallace Dunham in the United States of America. He has not disclosed much information about himself. Though he has spent his entire life in the US. He entered politics a long time ago and has been serving as a politician since then.
Relationship with Donald Trump: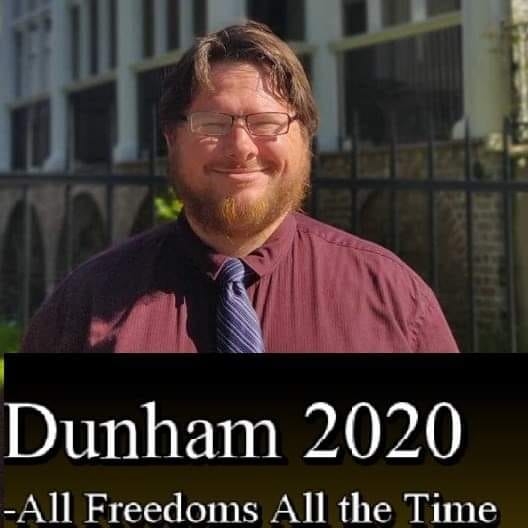 Keenan Dunham is a challenger of current president Donald Trump. And also involved in many anti-Trump movements. His primary focus is also to remove Trump from his current presidency position. He is against the way Donald Trump is controlling the USA. He wants a lot of changes in the country as he believes America won't be great again if Donald Trump stays as president in 2020. In 2016 he was one of Trump's challengers. But couldn't beat Donald Trump then but this year, Keenan is very much focused and has been very active than the previous election.
Keenan Dunham's Presidential Campaign:
Since, Dunham was one of the candidates in the 2016 Presidential Election. He represented the Libertarian political party. But, unfortunately couldn't win the election. Since the end of the 2016 election, he has been very focused on his work and has been involved in many political works around the country.
He is very determined to be the President of the USA in 2020. And announced his presidency for 2020 after qualifying for the primary ballots in California and New Hampshire. Keenan Dunham's presidency campaign consists of four different categories which are to legalize cannabis, legalize gambling nationwide, regulate bitcoin and blockchain ledger technology, and finally to eliminate the personal income tax. His presidential campaign majorly focuses on justice to people. And he believes there shouldn't be any foreign intervention in the USA. He also believes there shouldn't be any type of national ID for US citizens to travel. Keenan Dunham also strongly believes as personal information is private property and nobody should be legalized to use it without the person's permission. He also wants to stop foreign countries to rely on the resources of the USA.
Personal Life:
Keenan Wallace Dunham is popularly known to be a private kind of person. He believes that his personal life has nothing to do with his professional life. This is why he hasn't shared any private talks about his home, wife, and children. He believes his work shouldn't hamper his family and he loves to keep his family as a secret.
Net Worth:
The estimated net worth of Keenan Dunham is approximately $1 million – $5 million. This range of net worth is based on a report back in 2019. His source of income is solely from his current political position.
Facts:
He has been double active in politics since his failure in the 2016 Presidential Election.
Keenan Wallace Dunham supports LGBT movements.
He is the vice-chair of the Horror County Libertarian Party.
Many Trump supporters have criticized him.
He is very much active on social media platforms like Facebook and Twitter.