Frances Wolf is the incumbent First Lady of Pennsylvania who has been in the office since January 20, 2015 as her husband Tom Wolf succeeded Tom Corbett as Governor of Pennsylvania. Wolf is also a diplomat and a market researcher.
Early Life and Education
Frances Wolf was born to a diplomat father in Brooklyn, New York. As a child, she had to go through a lot of changes as her father's posting varied from time to time. She lived in Iran, Germany, France, Pakistan and United Kingdom as a child.
Educated in various schools around the world, Frances Wolf joined the University of London for an undergraduate degree in South Asian history. Leaving England after bachelor's education, Frances became a student at Boston University. Likewise, she also did another degree in studio art and history of art from Franklin & Marshall College in Lancaster. In addition, Wolf finally completed her post-graduate education in history of art from Bryn Mawr College.
Personal Life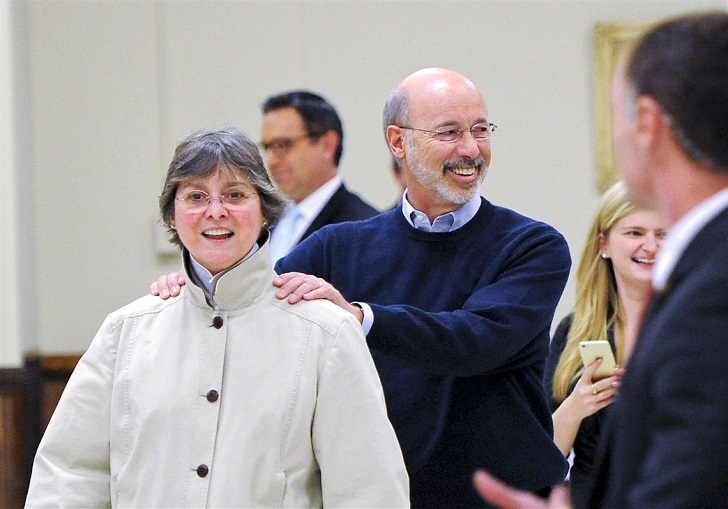 France and Tom stayed together since their school days. They married in 1975 and had two daughters – Sarah and Kate – and a son – Jamie. By profession, Sarah is an architect; Jamie is in real estate business and Kate is a geologist.
Career
Academically, Frances is an expert in art history. However, professionally, she has held jobs as a market researcher, consultant, and planner.
Looking into her rich professional vocation, Frances Wolf, at some point, held the position in consular sector of the US Embassy in London. As an embassy employee, Wolf was responsible for reviewing visa applications. Likewise, after coming back to the United States, Wolf started working as a market researcher for Cahners Publishing Company. Under this position, she was supposed to analyze and evaluate the attractiveness, position, and effectiveness of advertisements posted in the company's publications.
Working in Cahners Publishing Company for a few years, Frances Wolf left Boston and settled in Pennsylvania. At York, she entered Buchart Horn as a specialist in the planning of water distribution system in the state of Pennsylvania. Besides involving in mainstream career, Frances Wolf has also been largely engaged in civic and community works and programs. She has been an exemplary mother by volunteering at her children's schools and organizing workshops for writing. Likewise, she also served in the following organizations at different points of her life:
York County Community Foundation
York County Planning Commission
York's Martin Memorial Library
York Jewish Community Center
Women's Giving Circle of York
Franklin & Marshall College
Donald Trump and Frances Wolf
In political alignment with her husband, Frances Wolf refused to attend Donald Trump's Inauguration on January 20, 2017. Besides this, the two can't be linked directly. However, Frances' husband Tom Wolf is a strong opposition of President Donald Trump. Tom condemned Trump's immigration order and budget proposals.