Cathy Justice is the incumbent First Lady of West Virginia, having taken office on January 16, 2017 as her husband Jim Justice succeeded Earl Ray Tomblin as Governor of West Virginia. Cathy is also a businesswoman.
Early Life and Education
Cathy Justice was born on 28 January 1953 to father Thomas Leigh and mother Virginia Ruth Comer in Beckley, West Virginia. Raised in Prosperity, West Virginia, Cathy went to Raleigh County Public School and Woodrow Wilson High School for early education. Graduating from Woodrow Wilson in 1970, Cathy Justice joined Marshall University for an undergraduate degree in secondary education.
Personal Life
Finishing up college education, Cathy returned to her hometown. She married her husband Jim Justice in 1970 and the couple recently passed their fortieth anniversary. They have two children: Jay and Jill Justice and currently live in Lewisburg.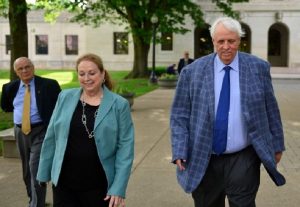 In regard to sports, Cathy Justice was an adept horse rider.
Career
Starting horse riding from a very young age, it became Cathy's short-term sports career. She has been involved in several racing operations and community to state championships. As a matter of fact, in 1976, she was even titled the West Virginia Quarter Horse Queen. Besides racing, Cathy loves raising 4-H horses – according to the West Virginia Governor's website, Cathy is 'very proud of the fact that several of her horses are currently competing in thoroughbred racing at prominent racetracks across the country'.
Cathy's professional career took a turn after her father's death. She succeeded him as President of Comer Electric, Inc, a family business that was primarily established by her parents to supply any electric appliances. Besides, Cathy has also been involved in retail business such as The Greenbrier and financial sector such as First National Bank, Ronceverte.
Having been an experienced businesswoman and a competitive sportsperson, Cathy Justice has realized the need of giving back to the community. Hence, she engages herself in community schools as a substitute teacher and frequently appears in any charity events or conferences. Likewise, Justice is a big advocate of reading – in fact, she has been collaborating with churches to promote reading among school students.
Interestingly, Cathy is a big fan of her husband's basketball team, Greenbrier East High School. She encourages and supports the players by inviting them for meals and attending every game they play.
https://www.youtube.com/watch?v=7nHacbOkSTU
Donald Trump and Cathy Justice
Keeping aside all the other life aspects, Cathy Justice and Donald Trump have one thing in common: they both are business people, regardless of the type of business. Likewise, Cathy's husband is also a businessman and a billionaire. However, the two business leaders represent two opposing American parties.