Toby Keith an Oklahoma-born singer and songwriter who was previously worked for Mercury Records. Prior to leaving Mercury, he had already recorded four superhit albums. So far, he has made around 17 albums, excluding 2 Christmas albums and four compilations. Keith has sold over 40 million copies of his albums.
Early Life and Education
Toby Keith was born July 8, 1961 to father Hubert K. Covel and mother Carolyn Joan. As a kid, he was raised in Fort Smith, Arkansas with a brother and a sister. After Toby became the age of going to school, his family moved to Moore where Keith attended Highlands West Junior High. Later, he joined Moore High School.
After high school, Keith supposedly left studies as he had started to work in the oil fields. Besides, he was also a semi-pro football player for OKC.
Personal Life
Toby Keith is married to Tricia Lucas since March 24, 1984. The couple has three children: Shelley, Krystal and Stelen.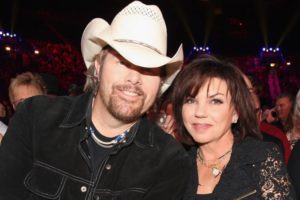 Keith holds an honorary degree from Villanova University. He follows the sports teams of the University of Oklahoma.
Toby is worth about half a billion dollars.
Career
In 1993, Keith released his debut album titled Toby Keith. Four of his songs from the album were charted in the top position on Hot Country Songs. Motivated by the success, Keith released his second studio album Boomtown in 1994. Two years later, he brought another album named Blue Moon in the market. With 10 title songs, Blue Moon became a superhit with a peak position of 6 in the US Billboard Top Country Albums. In 1997, Toby launched Dream Walkin'.
Under Dreamworks' label, Keith produced 'How Do You Like Me Now?!' in 1999. Extending a total length of 40 minutes and 59 seconds, the albums was listed number 9 in the US Billboard Top Country Albums. Two years later, on August 28, 2001, he released Pull My Chain which topped the US Billboard Top Country Albums' chart. Keith dedicated the album to his late beloved father.
As the years followed, Keith's studio albums started topping both US Billboard 200 and Top Country Albums charts. Unleashed (2002) and Shock'n Y'all (2003) were perhaps the two most successful albums of Toby Keith's musical career. Some of the other albums from Keith are:
Honkytonk University (2005)
White Trash with Money (2006)
Big Dog Daddy (2007)
That Don't Make Me a Bad Guy (2008)
American Ride (2009)
Bullets in the Gun (2010)
Clancy's Tavern (2011)
Hope on the Rocks (2012)
Drinks After Work (2013)
35 MPH Town (2015)
Awards
2002 and 2003 Favorite Country Album – "Unleashed" & "Shock'n Y'all"
2000 Album of the Year – "How Do You Like Me Now?!", Academy of Country Music
2002 Entertainer of the Year, Academy of Country Music
2003 Album of the Year – "Shock'n Y'all"
2003 Entertainer of the Year, Academy of Country Music
2003 Video of the Year with Willie Nelson – "Beer for My Horses", Academy of Country Music
2012 International Act of the Year, British Country Music Association
Country Artist of The Decade, Billboard
Donald Trump and Toby Keith
On January 20, 2017, singer Toby Keith performed for Make America Great Again! Welcome Celebration. He said in an interview, "There's no reason not to do it."