Carl Icahn is a successful businessperson who was announced to serve Trump administration as Special Advisor on Regulatory Reform in December. Icahn also holds shares at Icahn Enterprises and chairs an American manufacturer Federal-Mogul.
Early Life and Education
Icahn was born on February 16, 1936 in New York City to a father who was a substitute teacher and a mother who was a school teacher. At an early age, he joined Far Rockaway High School. After high school, Carl went to prestigious ivy league, Princeton University, for an undergraduate degree in philosophy. He also joined NYU School of Medicine for two years.
Personal Life
Carl Icahn married a Czechoslovakian-American Liba Trejbal in 1979. The couple had two children: Brett and Michelle Celia Icahn. After just 14 years of marriage, the couple parted their ways from each other. Consequently, in 1999, they went through a formal divorce procedure. Although Icahn was worth billions, it's believed that he didn't offer a significant amount in alimony.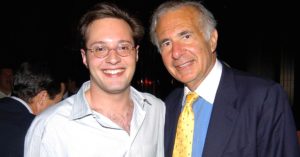 The year they signed their divorce, Icahn married Gail Golden. Icahn was 33 at that time.
Career
After graduation, Carl Icahn entered Wall Street with the job of a stockbroker in 1961. Within the next seven years, he had already founded Icahn & Co. Building the company for 8 years, Icahn then commenced moving from one company to other.
One of the greatest controversies of Icahn's career was when he took over TWA in 1985. He sacrificed TWA for personal profit – he made $469 million while the company was struggling with a huge debt of $540 million. In the same years, Icahn had also made an unsuccessful takeover of the US Steel. Likewise, he was also the leader behind the proposal of breaking up Time Warner. Undoubtedly, Icahn's business career has many such tarnishes.
To follow up, Icahn has moved rapidly from company to company. In 2007, he was managing to acquire shares in Motorola, invest in Motricity, buy 8.5% of BEA Systems and hold stakes at Biogen Idec. Similarly, in 2008, Icahn made a lot of lucrative deals on the sale of casinos and even tried to takeover Bristol-Myers Squibb.
Icahn also worked for Blockbuster, XO XO communications, Cadus and many other organizations. He also owns Adventrix Pharmaceuticals. Moreover, he invested in Hain Celestial Group Inc. and acquired a 150-million-dollar property in Las Vegas. Because of this money-spinning career, Icahn was included in the list of highest earning hedge fund managers.
In addition, Icahn's investment range encloses technological world as well – he had 4.7 million shares of Apple which were sold off in 2016. Likewise, he frequently invests in energy developers such as Talisman Energy. With a net worth of over $17 billion, Icahn is indeed a successful business magnate.
Donald Trump and Carl Icahn
The relationship between Icahn and President Trump becomes interesting when it comes to politics. While all the other leaders and business tycoons were refraining from vouching for President Trump, Icahn endorsed him publicly in 2016. He even pledged $150 million for regulatory reforms in the US.
https://www.youtube.com/watch?v=QJZG-dWCnuo
At first, Icahn was a likely candidate for Treasury Secretary. However, he was announced to serve Trump administration as Special Advisor on Regulatory Reforms in the US.
https://www.youtube.com/watch?v=SVvNewZ-ZPY