Last updated on February 13th, 2017 at 05:32 am
Chloe Sophia Trump is the youngest daughter of Donald Trump Jr and Vanessa Trump. Born on 16th June Chloe arrived at 11:56 p.m. and weighed in at 8 lbs., 6 oz.
During the birth of Chloe; her parents were actively flaunting the new addition to Trump family on Twitter.
My due date is this weekend. I can't wait for our new addition !#baby#5

— Vanessa Trump (@MrsVanessaTrump) June 12, 2014
Its a girl!!!! @MrsVanessaTrump and I are very excited to be bringing home our little bundle of joy today. #FullHouse

— Donald Trump Jr. (@DonaldJTrumpJr) June 18, 2014
Chloe Sophia is now sleeping on my belly after a hectic afternoon meeting her sister and brothers. #iloveit

— Donald Trump Jr. (@DonaldJTrumpJr) June 18, 2014

Chloe is the youngest out of five children of Donald Trump Jr and Vanessa Trump. The couple is already parents to Kai Madison Trump and sons Donald John III, Tristan Milos, and Spencer Frederick.
Vanessa and Donald already have a decade long marriage after getting married to each other in  November 2005 at the Trump-owned Mar-a-Lago Club in Palm Beach, Florida.
Donlad Jr takes inspiration from his father President Trump in handling his kids and takes him as his role model. Doanld Jr is the eldest son of Donald Trump with wife Ivana Trump.
He has two siblings Ivanka Trump and Eric Trump while he is also the half brother to Tiffany Trump and Barron Trump.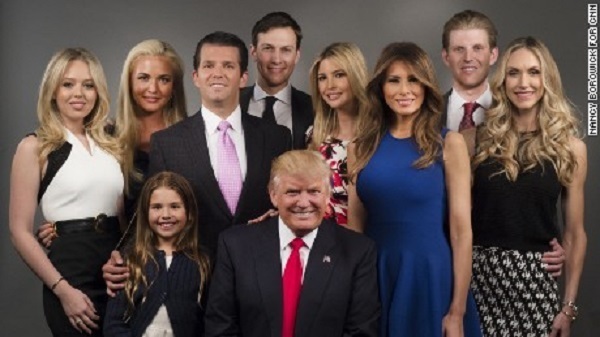 Donald Jr and his wife did not try in finding the sex of the baby prior to delivery and waited to boost their excitement about having a baby regardless of the sex.
Chloe has few other cousins and additions in the family as Trump's sister Ivanka is married to Jared Kushner and is blessed with three kids namely Arabella, Joseph, and Theodore.
Chloe is often regarded as Daddy's little princess because Donald Jr is really fond of her.
He is often seen carrying her in events and along with that, the daddy-daughter duo goes to dinner dates too.