HGTV's Fixer upper's Chip Gaines is sued by his former friend and business partners this week. The husband of Joanna Gaines is accused by his former partners Richard Clark and John Lewis on fraud charges and even threatening.
According to Chip's former partners claim " Chip has allegedly convinced his partners to forfeit their share on $5000 of joint venture Magnolia Reality but didn't mention the deal he had done with HGTV on shooting the pilot show which was an instant hit"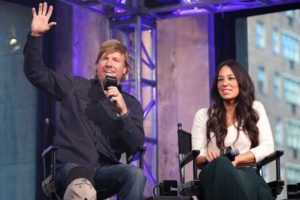 Rick Clark and John Lewis claim that Fixer Upper Star Chip and Joanna Gaines tricked them and did not let them the success of the project which is their right. Not only success but the partners are left empty handed while Gaines couple are enjoying the millions out of HGTV.
Gaines sued for $1 million after 4 years

Richard Clark, John Lewis and Chip Gaines were friends for more than decades. John says he knew that the shooting of pilot episode was going on but didn't knew it was going to be aired on any network.
Now, Gaines had secretly arranged and signed off the deal with HGTV which he decided not to tell to his partners according to John. Then Gaines came to John and convinced his that their joint business was worthless and of no value and John signed off the business to Chip.
But all this happened four years ago. Chip and Joanna Gaines are already a massive hit and the couple had gathered millions.  Also they have multiple business under Brand name Magnolia like Magnolia Market, Magnolia Homes and Magnolia Realty. This must have hurt the former partner of Gaines and they eventually sued. But why after 4 years?
Well, Chip's former partner claims that they had continuously reached to Gaines via email but he was not responding. In 2016, a lawsuit copy was sent by lawyer David Tekell but as he claims but Chip's attorney and spokesperson Jordan Mayfield has denied the claim and told to Waco Tribune that Gaines had received only the threats of lawsuit.
Jordan added that former friends of Chip Gaines wanted to settle the matter privately but the settlement option was outrageous.
Chip Gaines Fights back and responded
Chip gain has hired a lawyer and also responded in his twitter saying that he had been using the same phone number for 15 years and same email for 20 years and he hasn't been in touch in three years with his former partners.
Fyi: Ive had the same cell # 15 yrs.. same email for 20 yrs. No one called or emailed? 4 years later "friends" reach out via lawsuit.. humm

— Chip Gaines (@chippergaines) April 29, 2017

Now, the lawsuit has been filed seeking $1 million from Chip Gaines for non-monetary relief. In the lawsuit filed his former partners has claimed that Chip has texted a threatening message to John where he said that things might end up in a messy way for Rick. This might not be good for Chip if they could show the message as a proof in courtroom.
The case hasn't been studied in court and we don't know on whose behalf the case would turn. Both the parties are prepared for this battle.
The Gained Couple are now living in their Texas home with their four children Emmie, Duke, Emma and Drake.