Magnolia Homes owners and Fixer Upper's lovely designer couple Chip and Joanna Gaines are your favorite but you will love them more after you know how they have grown up their four beautiful children.
The couple lives in Crawford, Texas with their children Drake, Ella, Duke and Emmie. The children's age are 11,9,8 and 6 respectively.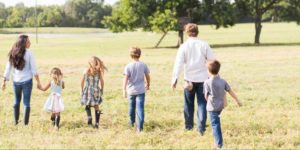 The children of Chip and Joanna Gaines are living a fairy tale life with their super smart and loving parents. They have a farm with 60 animals which includes cow, goat, pigs, turkey,chicken and dogs, they have a tree house and 40 acres of land.
And their parents have no problem even they have another baby because Joanna and Chip believes that the more the better.
The four children of Gaines have all what they wanted but they do not have a television at home. You wonder why? Well, their celebrity parents want their children to have a normal childhood and no media popularity like their parents. The children didn't even know that their parents have a show on HGTV. That's awesome!
Gaines family has always managed time to be together and did wonderful stuffs together. Their daughter Emmie and Ella knows how to make lemonade and cook and design. All children along with Chip and Joanna have went to Skiing and hiking.  They play with animals in the farm and water the plants.

You can surf through the Instagram of Chip and Joanna Gaines and you will get the lovely family, grand interior designs and the life you want to live. Sometimes Chip takes Drake and Duke to work and believes they have a lot to learn.
Recently, there has been some tension in Gain's family because their former partner and friend sued Chip Gaines for $1 million on fraud charges. They have accused and sued Chip of deceivingly removing his partners from the joint venture of Magnolia Homes. According to the lawsuit filed Chip convinced his former partners to forfeit their shares only for $5000 and didn't tell them that the pilot show was going to be aired on HGTV.
His former partners claims that he didn't let them enjoy the future success by fraud.