Last updated on June 8th, 2018 at 07:52 am
Amazon is by far the largest online shopping store in the world based on internet purchasing and sales. Started in the year 1994, Amazon's head office is situated in Seattle, Washington. Formerly known as Cadabra, Inc., Amazon positions itself in the second place in terms of total sales chasing after the Alibaba Group of China. Initially started as the online store for books, the company has timely multiplied its service merchandise and now has been a leading seller of video/audio downloads, MP3 streaming, and download, audiobooks, electronic equipment, software programs, apparel, video games, furniture, toys, jewelry, and food too. Amazon also provides the electronics like Fire TV, Fire tablets, Kindle e-readers and newly introduced Echo. Operating from across the globe with multiple separate retail address based in different countries, Amazon is reported to have the revenue of $177.86 billion USD in 2017 with net income of US $3.033 billion by the end of 2017. This multi-billion dollar company is owned by Jeffrey Preston Jorgensen aka "Jeff Bezos".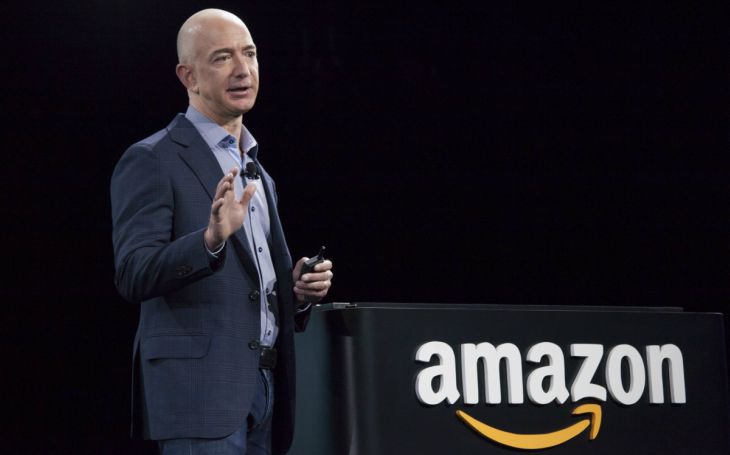 Who is Jeff Bezos?
A noted philanthropist and technology entrepreneur, Jeff Bezos is designated as the wealthiest person on the earth in 2018. With the whopping net worth of US$120.5 billion, Jeff registered himself as the only centi-billionaire in March 2018. Born in Mexico and raised in Houston, Jeff built his giant net worth in the duration of 30 years. An alumni of Princeton University, Jeff is also the founder of the human spaceflight company called Blue Origin. Established in late 2000, Bezos has also seen to be fascinated by the extraterrestrial activity and is said to have the vision of colonizing human life in outer space, someday. Blue Origin is said to be the result of Bezos' far sight about the depletion of earth's resources sooner than the estimations as they were being overused and misused.  Blue Origin provides the reduced amount of tariff for extraterrestrial travel with maximum safety. Bezos also owns the newspaper "The Washington Post" which he bought in 2013 for the cash amount of US$250 million from Graham's family.  A stakeholder at Google, Jeff side by side runs his venture Bezos Expedition for personal investments. Involved in various sectors, Jeff Bezos is a true self-made billionaire with outstanding business perspectives and plans.
Family and children of Jeff Bezos
A strict supporter of same-sex marriage and activist, Jeff is married to the revolutionary novelist and American Book Award winner MacKenzie S. Tuttle in 1993. Together they have four children, out of which three sons are biological and the daughter is adopted. Tuttle is widely known as the founder of Bystander Revolution. According to sources, Tuttle met Bezos at New York City while working for the hedge fund D.E. Shaw.
Is Donald Trump after Jeff Bezos?
Often termed as annoyingly quantitative and nerdy, Jeff Bezos was offered a position in Defense Innovation Board for improvisation of technology by Defense Department, run by Donald Trump. It was after 2016 presidential election but Bezos calmly declined the offer without clarifying any specific reason. This action of Bezos caught him the major back to back blows from Trump. Trump referred the action to be the mere response to conflict of interest initially but later on accused Bezos of many other liabilities. Trump mentioned that Bezos had dodged a huge figure of the amount of corporate taxation. He further added that Bezos could hide the deeds only because of his political connections. Trump also accused Bezos of spreading fake news and even targeted The Washing Post calling it the chief lobbyist for Amazon and money maker for Amazon. Bezos, as well as the editorial board time and again, declined the accusation but Trump seems to be quite adamant about his comments. as of recent news, Trump and Bezos have been involved in the treacherous feud because of postal service policy.
According to Trump, Amazon has avoided major tax imbursement and used the postal service of the country as the personal delivery staff. Trump also argued that those unpaid taxes has caused huge loss to the country and has caused severe damages to other retail stores. Bezos has remained mum about the allegations but his associates have refused it harshly calling Trump the worst president who interferes with others work and is jealous. Trump has been, many times, named as the jealous and mean a person who preys on others work and cannot stand anybody who is wealthier than him. Even the media personalities have gagged Trump saying Trump is in a feud with Bezos because Bezos is the actual billionaire and Trump is doing this out of jealousy. Even Bezos once mentioned that he would someday give Donald Trump an outer space tour in his rocket, hinting to leave him there forever.
Nonetheless, the Amazon is the largest brand making consumers time worthwhile, Bezos isn't the good face on the earth. His narcissism and parsimonies have raised a lot of questions in many public charity events. Parodied as the entrepreneurial supervillain, Jeff Bezos is no less than Donald Trump except his attitude and attribution towards the role of social media.