Last updated on July 17th, 2019 at 10:30 am
Sarah Huckabee Sanders is been so much in the media for defending Donald Trump for his accusations towards Barrack Obama for Wiretapping. Sarah spoke on behalf of Trump but couldn't provide any pieces of evidence. See it here.
Donald Trump declared in his Twitter that Barrack Obama has wiretapped Trump Tower during his election campaign. When Martha Raddatz asked Sarah said " Trump had just said what he heard from conservative news outlets like Breitbart.
 "Everybody acts like President Trump is the one that came up with this idea and just threw it out there," she said. "There are multiple news outlets that have reported this."
Sarah works under Press Secretary Sean Spicer and her position in White House as Deputy Press Secretary.
Sarah is the daughter of Mike Huckabee
Catching up with my dad @GovMikeHuckabee in NYC tonight. He's off to @KellyFileFNC and I'm headed to @donlemon! pic.twitter.com/pDcgSIQqP4

— Sarah Huckabee (@SarahHuckabee) November 4, 2016

Sarah Huckabee Sanders is the daughter of former Arkansas governor and presidential hopeful Mike Huckabee. Janet Huckabee is her mother. Mike ran for president in 2008 and also in 2016 election too against Donald Trump.
Sarah considers her mother as her inspiration and political hero.
Sarah's mother was previously the employee Little Rock's Red Cross employee. Janet taught organizational skills from her mother.
"He's an amazing politician, but an even better parent," Sanders said. "Everyday he challenges me to be a better person and I will forever be grateful for that."
David Huckabee and John Huckabee are her siblings. David is a mortgage broker who is said to be dismissed from Boys scout for intentionally torturing a dog. He also helped his father in his 2008 presidential campaign.
Mike has spoken to Newsweek about David's dismissal from scout and said David wasn't any part of torturing dog.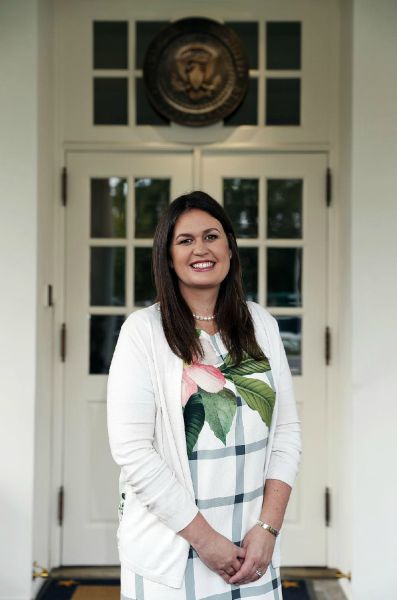 Sarah helped her father in all his political campaigns
Live with @TeamCavuto from snowy Iowa. #gladtobeinside #campaignlife pic.twitter.com/qmtENDb8aW

— Sarah Huckabee (@SarahHuckabee) January 19, 2016

In 2002 governor re-election of Arkansas, Mike was challenged by Democrat Jimmie Lou Fisher but Mike won and was re-elected as governor. Sarah Huckabee had worked hard on that campaign.
In Mike Huckabee's 2006 presidential campaign Sarah was the national political director for him. During the Republican presidential primaries Mike won the Iowa caucus but John McCain won other many states. Later Mike Huckabee pulled himself out of the race when it became obvious that John would win.
Sarah reportedly worked more than 90 hours/week in his dad campaigns and even became a surrogate father in Iowa and other Key states.
In 2016 election too, Mike Huckabee pulled himself out of the race after Iowa Caucus and Sarah was the campaign manager for him.
She even worked on the Re-election campaign of George W. Bush (2004)

Sarah had worked even in the George W. Bush election as the field coordinator in Ohio. The election was competitive but eventually Bush won by 2.1 percentage over John Kerry.
In 2012 presidential election she was an advisor to Tim Pawlenty; Mike Huckabee didn't compete in that presidential campaign.
Sarah was Trump's Senior Advisor during the campaign

Donald Trump hired Sarah Huckabee Sanders as his senior advisor after her father pulled out of the race after Iowa caucus. In an interview with CNN Sanders said that political pundits and politicians should stop criticizing Trump supporters.
"I keep hearing all these pundits and people from the media and other politicians talking about how bad Donald Trump is for America and, in particular, how bad people are that support Donald Trump," she told CNN. "My thing is that they're not bad for America, they are America…They are hard-working, God-fearing people who are sick and tired of the government stepping all over them and they want someone to help just clear the path and get government out of the way."
Sarah, in 2016 presidential campaign said Trump will not apologize for his rhetoric about Latinos because they will vote for him. She was pretty good at facing median and defending Trump's criticisms.
Sarah said to CNN "I think that a lot of the Latinos will eventually come on board and support Donald Trump," she said. "Because at the end of the day, I think there are a lot of things they care about. And that's the economy and that's national security. And those are things that Americans trust Donald Trump on infinitely more than they trust Hillary Clinton"
After Trump won the election Sean Spicer and Sarah Huckabee Sanders were elected as Chief White House Press Secretary and Deputy Press Secretary respectively.
Sarah is married to Bryan Chatfield Sanders
So proud of my amazing wife @SarahHuckabee who starts her new job as Principal Deputy White House Press Secretary today pic.twitter.com/kYcTCyUllt

— Bryan Sanders (@sanders_bryan) January 20, 2017

Sarah married her husband Bryan Sanders in 2010. Bryan is a strategist and pollster who also worked for Mike as a media consultant in his campaign in 2016.
Sarah and her husband married at the Virgin Islands on St. John Church. Bryan is the partner at the political firm Second Street Strategies. Bryan and Sarah started that company.
Only 12 days old, but never to young to learn the importance of voting! Cc: @sanders_bryan pic.twitter.com/NT0svFSX

— Sarah Huckabee (@SarahHuckabee) May 22, 2012
Bryan Sanders worked for Robert Bentley, Mike Huckabee, Ted Yoho, Lynn Fitch, Trent Franks, Scott Pruitt, French Hill and Dan Patrick on their campaigns.
Sarah is the mother of three
Sarah and her husband Bryan sanders are the parents of three children. They have 2 daughters and a son. They loved their children so much and their twitter account is flooded with the pictures of them especially on Bryan's account including his cover photo.
Her eye is tilted
Sarah's left eyelid a bit tilted in case you notice. It is not obvious all the time but it's true.
Also see: Donald Trump gave Sarah Huckabee Sanders a warm goodbye