Last updated on June 14th, 2019 at 07:48 pm
Sarah Huckabee Sanders is the deputy assistant to President Donald Trump along with being the deputy press secretary in his presidential administration. She was also the senior advisor for Donald Trump's Presidential Campaign, 2016. Along with that Sanders is the founding partner of Second Street Strategies in Little Rock, Arkansas where she works on national political campaigns and on campaigns for federal office in Arkansas.
Synopsis
During Mike Huckabee Arkansas gubernatorial re-election in 2002, Sarah Huckabee Sanders served as a field coordinator in government for Mike Huckabee. She served as a regional liaison at the Department of Education for congressional affairs and for George W. Bush's 2004 presidential campaign as an Ohio field director.
Sanders served as the national political director for Huckabee's presidential campaign in 2008. During the Campaign, she used to spend up to 90 hours in a week working, running her father's schedule and event briefings not only in Iowa but in New Hampshire and South Carolina. Sander became the director of Huck PAC, which help to elect conservative candidates at every level of government and promote conservative principles after Huckabee withdrew from the race.
Early Year
Sarah Huckabee Sanders is the daughter of Mike Huckabee, the former governor of Arkansas and a two-time GOP presidential hopeful.
Sanders was involved in the campaign of United State Senators from Arkansas, directing John Boozman's campaign 2010. Sanders worked to position Boozman's opponent. Sanders served as a political adviser for Minnesota Republican Tim Pawlenty's Presidential campaign in 2012. In 2014, Sanders served as a senior adviser for Tom Cotton's 2014 Senate run. She served as the national political director for Huckabee's 2008 presidential campaign and managed Huckabee's 2016 presidential bid. Later, Sanders joined Trump's Presidential campaign as a senior advisor where she handles the Trump Campaign's communication for coalitions. She is also V.P. of Tsamoutales Strategies in Little Rock, Arkansas.
Mike Huckabee Presidential campaign, 2016
On May 7, 2015, Sarah Huckabee Sanders was officially announced as campaign manager for Huckabee's campaign. In Sep 2015, Huckabee Sanders told that the Huckabee campaign was "focusing more on what Huckabee did as governor of Arkansas instead of his past as a Baptist preacher. On February 1, 2016, after receiving 1.8% of the votes in the Iowa caucuses, Huckabee suspended his presidential campaign.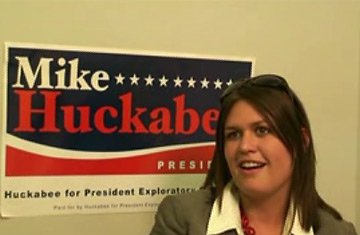 Donald Trump's Presidential campaign, 2016
On Feb 25, 2016, Sarah Huckabee Sanders was hired as a senior advisor for the Trump presidential campaign. While speaking to CNN, She praised Mr. Trump's campaign by calling him a champion of working families. CNN also noted that Sanders believed that Trump is the on a presidential candidate who can go in Washington and fix the problem of being controlled by Donors and special Interests.  Trump said in one interview, "I have great respect for Governor Mike Huckabee and we have a mutual admiration for our wonderful families," said Trump in a statement. "It is great to have his daughter, Sarah, join the campaign."
Role in Donald Trump's administration
Huckabee Sanders serves as the deputy assistant to the president along with being principal deputy secretary. She was hired the same day where Trump announced 11 new members for the White House.
Personal Life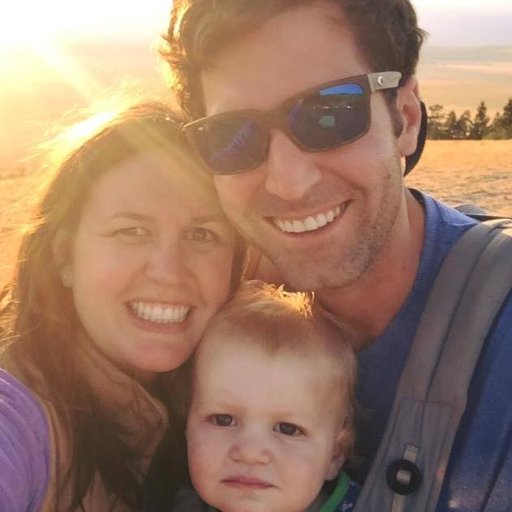 Sarah Huckabee Sanders married Bryan Sanders, her father Mike Huckabee's 2016 media consultant. Bryan is also a pollster and strategist by profession and has called himself a dad to three on his Twitter account description.

The couple had a son in 2015 whom they named George.
tough first day at the office for George. welcome back to supermom & Huckabee campaign manager @SarahHuckabee! pic.twitter.com/MSdplMXJTQ

— Bryan Sanders (@sanders_bryan) June 22, 2015
Along with that they also have a daughter named Scarlett who was born in 2012.
Introducing our beautiful little girl Scarlett Wiles Sanders! @sarahhuckabee pic.twitter.com/vvAwaTKS

— Bryan Sanders (@sanders_bryan) May 11, 2012
05/03/2017: Donald Trump accused former president Barrack Obama of wiretapping Trump's mobile phone. On an Interview with Martha Raddatz in ABC news Sanders defended President Trump.
Also see: Donald Trump gave Sarah Huckabee Sanders a warm goodbye