Last updated on September 11th, 2018 at 11:32 am
Sue Snyder is the current First Lady of Michigan. She has been in the office since January 1, 2011, when her husband Rick Snyder was posted as Governor of Michigan. As First Lady, Sue has been supporting organizations working for the welfare of families, children, and students.
Early Life and Education
Native to Dearborn, Michigan, Sue Snyder was raised by her parents. She went to Dearborn High School as a child and joined Michigan University for an undergraduate degree in business administration.
Personal Life
Rick Snyder and Sue Snyder have been married since 1987 i.e. almost three decades. They first met when they were employees at PricewaterhouseCoopers, Detroit. The couple currently has three children: 25-year-old Jeff, 22-year-old Melissa and 17-year-old Kelsey.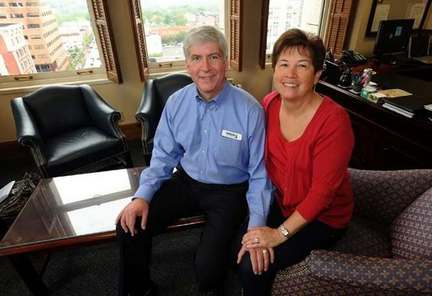 Sue Snyder and her family live in Ann Arbor, Michigan. They also have a home in Gun Lake.
Career
Before Sue's husband became Governor of Michigan, Sue was an employee at Cooper's & Lybrand. Besides, she also worked in a non-profit organization called Neutral Zone in Ann Arbor. As a board member of the organization, Snyder contributed to achieving the organizational aim of promoting 'personal growth' and making 'realise the dreams'. Since January 2011, Sue Snyder has been focussing her term as First Lady into three main areas: breast cancer awareness, children & families assault, and campus assault prevention.
Sue Snyder is a breast cancer survivor herself and knows what it feels like to live with such a dreadful disease. Hence, she has been collaborating with several organization to raise awareness about such cancer among women, help victims connect with other victims and provide moral support. As of today, Sue Snyder actively works with the Shades of Pink Foundation, which provides financial help to women facing difficulties because of breast cancer, the Susan G. Komen Foundation, which raises awareness about the disease and the Michigan Breast Cancer License Plate, which supports Breast Cancer Awareness License Plate and Michigan Breast & Cervical Cancer Control Program.
In addition, Sue Snyder also keeps herself busy by engaging in activities that benefit children and families. She has collaborated with Ele's Place to help orphan children get over the death of their parent/s, with Fostering Futures to finance higher education of former foster care students and with Safe Sleep Initiatives to reduce infant mortality rate to 0% and provide a safe and conducive environment for children's growth.
As an advocate against campus assault, Sue Snyder launched a campaign called 'Inform. Empower. Prevent. Let's End Campus Sexual Assault' in June 2016. She said, "Our colleges and universities are already doing a lot of good work but there is always more that can be done. It is my hope we can change the culture surrounding assault, encourage collaborative problem solving and identify current best practices in an effort to lessen assaults on college and university campuses."
Donald Trump and Sue Snyder
Sue Snyder doesn't have a direct link to the US President Donald Trump. However, her husband Rick Snyder and Donald Trump have confronted each other on several occasions. Although Rick didn't endorse Trump, he seems to be supportive of the new administration. However, Trump is still apparently hostile that Rick didn't endorse him. During a photo pose, Trump said, "Come on governor, even though you didn't endorse me."