Last updated on September 11th, 2018 at 05:40 pm
Rodrigo Duterte is the incumbent President of the Philippines who has been in office since June 30, 2016, as the successor of Benigno Aquino III. Formerly, Duterte was the Mayor of Davao City from 2013 – 2016, 2001 to 2010 and 1988 to 1998.
Early Life and Education
Born to a lawyer father and a teacher mother on March 14, 1945, Rodrigo Duterte was raised in the city of Maasin in Leyte, Philippines. Primarily, he went to Laboon Elementary School for early education. A year later, Duterte joined Santa Ana Elementary School. Moving between several schools, Rodrigo Duterte finally completed his high school education from High School Department of Holy Cross College of Digos.
After high school, Duterte joined the Lyceum of the Philippines for an undergraduate degree in political science.
Personal Life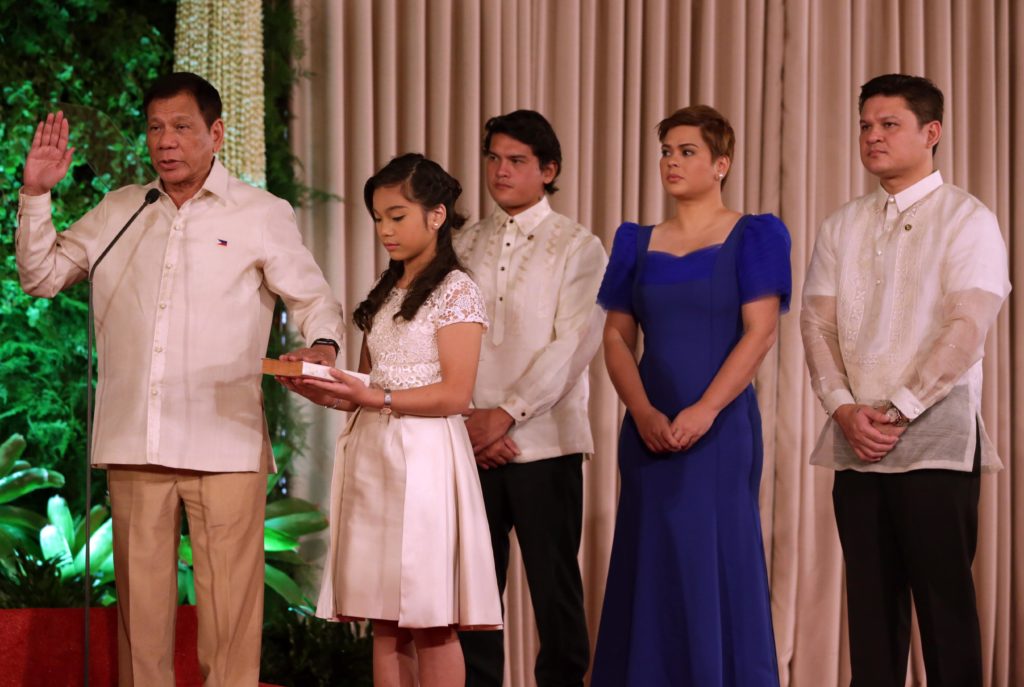 Rodrigo Duterte was formerly married to an air hostess named Elizabeth Abellana Zimmerman. The couple had three children: Paolo, Sara, and Sebastian.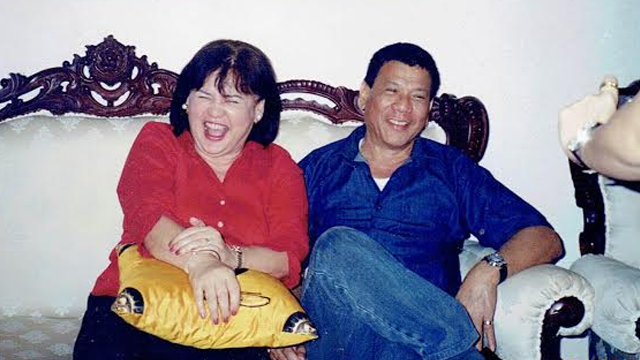 Elizabeth and Duterte separate in 2000 after 27 years of marriage. Duterte is currently married to Cielito "Honeylet" Salvador Avanceña. The couple has a daughter named Veronica.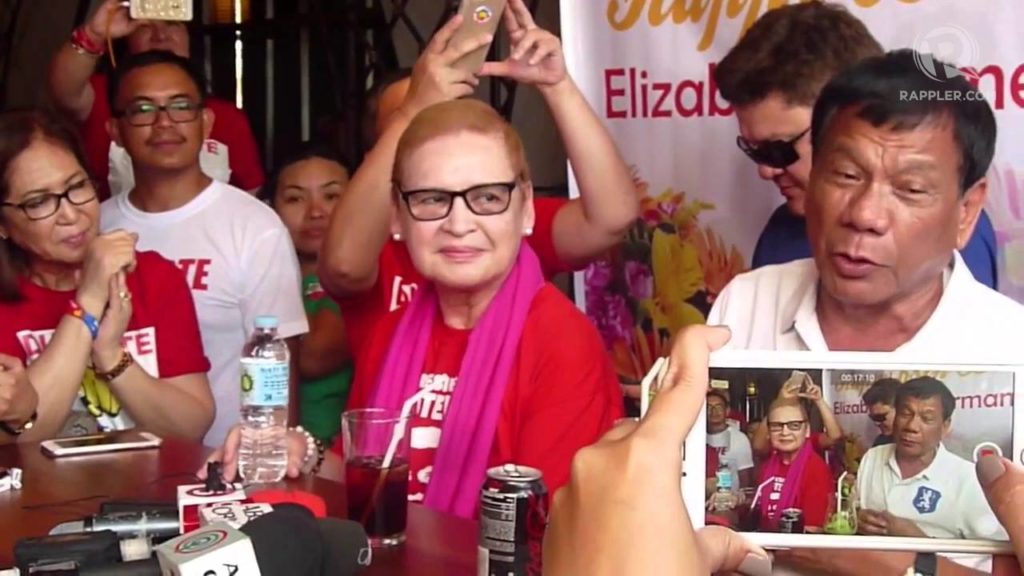 Career
Rodrigo Duterte always had disciplinary problems which got him expelled from several schools. It must not have been a great thing to put in a CV. Anyway, in 1986, he was appointed to a major public position of Vice Mayor of Davao City as the successor of Cornelio P. Maskarino. After serving for a year, Duterte was promoted to Mayor of Davao. He assumed office on February 2, 1988, by succeeding Jacinto T. Rubillar.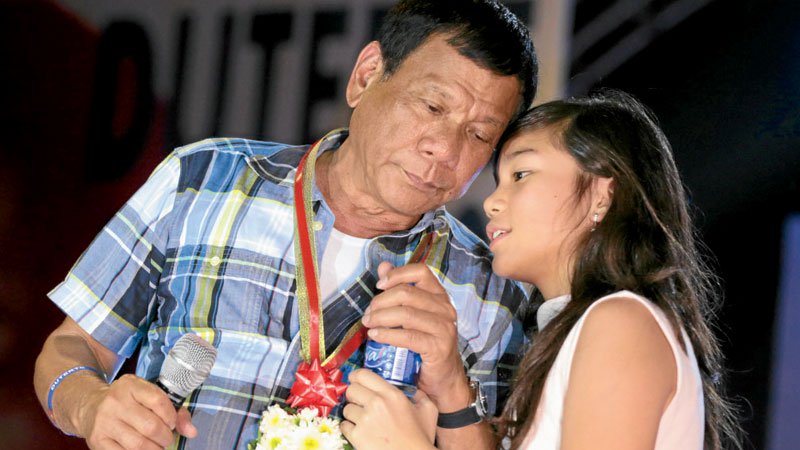 Holding the position of Mayor for ten years, Rodrigo decided to leave on March 19, 1998, and join Philippines House of Representatives from Davao City's 1st District. He stayed in the Congress for three years and returned to become Mayor of Davao City. On June 30, 2001, he succeeded Benjamin C. de Guzman and served until June 30, 2010. During this period, two vice mayors – Luis C. Bonguyan (2004-2007) and Sara Duterte (2007-2010) – worked under him. In 2010, he was succeeded by Sara Duterte as Mayor and, hence, he assumed the position of vice mayor. Duterte again retained his previous position on June 30, 2013.
In November 2015, Rodrigo Duterte announced his candidacy for President of the Philippines. Naming his daughter as a substitute for Mayor, Rodrigo fully joined the presidential campaign. Standing against five major candidates, Rodrigo Duterte won the presidential election with 39.01% or 16.6 million votes. The second-placed Liberal candidate Mar Roxas had a total of 9.9 million votes. Winning the most unconventional election in history, Duterte officially became President of the Philippines on June 30, 2016.
Rodrigo Duterte has called for harsh punishments against drug addicts and criminals. He said, "Hitler massacred three million Jews. Now, there are three million drug addicts. I'd be happy to slaughter them." Likewise, unlike most of the world leaders, Duterte has always remained hostile against former US President Barack Obama. He patronizingly called Obama a 'son of a whore' and has even cursed on him. In the same way, Duterte condemned the EU and its request to investigate the violation of human rights in the Philippines.
One of Rodrigo Duterte's strongest points is his stand against criminals. He wants to replicate his mayoral policies in the Philippines – he vowed to kill 100,000 criminals if he needs to. Duterte said, "Forget the laws on human rights. If I make it to the presidential palace, I will do just what I did as mayor. You drug pushers, hold-up men and do-nothings, you better go out. Because I'd kill you. I'll dump all of you into Manila Bay, and fatten all the fish there."
Duterte has also been light about rape and murder. Referring to one of the rapes in 1989 in Davao City, he said, "I saw her face and I thought, 'What a pity… they raped her, they all lined up. I was mad she was raped but she was so beautiful. I thought the mayor should have been first." Above all, Duterte even managed to curse on the holiest man on earth, Pope Francis.
Donald Trump and Rodrigo Duterte
Rodrigo Duterte and Donald Trump seem to be of a similar nature. However, looking at their stands, Duterte is obviously far stricter than Trump – maybe not on Muslims. According to The Guardian, Donald Trump praised Duterte's crackdown on drug addicts and criminals.
Amid a speculation of a strong relationship between US and Filipino President, Duterte apparently patronized Trump by saying 'He's a bigot and I am not'.