William Ryan Owens was an American Navy SEAL army who died while serving in the Yakla raid in Yemen. Reportedly, he is first American soldier to die in an attack ordered by new President of the United States, Donald Trump.
Early Life and Education
Ryan Owens was born on March 5, 1980 to a policeman father and a detective mother. Raised in Fort Lauderdale of Florida and Chillicothe of Illinois, Ryan went to Illinois Valley Central High School. Graduating in 1998, he joined the US Navy SEAL Academy.
Personal Life
Ryan Owens was married to Carry Owens with three children.
Career
Ryan entered the US Navy in 1998 and started serving in Suitland, Maryland as an officer of Naval Intelligence. To follow up, he entered Navy SEAL in 2002 and commenced his tours in Afghanistan War. As of 2009, Ryan was a chief petty officer who got promoted to a senior chief petty officer after his death in 2017.
Medals and Honours
Bronze Star Medals
Global War on Terrorism Service Medal
Global War on Terrorism Expeditionary Medal
Afghanistan Campaign Medal
National Defense Service Medal
Good Conduct Medal
Joint Meritorious Unit Award
Achievement Medal
Commendation Medal
Sea Service Ribbon
Presidential Unit Citations
Death, Aftermath, and Donald Trump
William Ryan Owens died on January 29, 2017 during a raid in Al Bayda province of Yemen. Buried in Arlington National Cemetery, Owens is the first soldier to die after Donald Trump took office as Commander-in-Chief. According to a statement released by Commander of Naval Special Warfare Command, Ryan was 'an exceptional SEAL, an experienced warrior and a highly-respected teammate who served silently, nobly and bravely through several combat deployments'.
Along with numerous mourners, Donald Trump and his daughter Ivanka went to Dover Air Force Base to pay their respects. President Trump also expressed his deepest and humble thoughts for the bereaved family of Owens.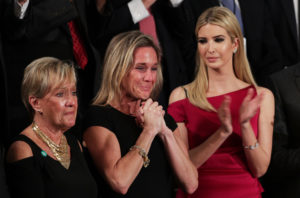 Likewise, he also remembered the fallen soldier on February 28, 2017 in a Congress joint session. Reportedly, Trump invited Owens' father for a meetup. However, he denied the invitation and asked Trump to order an investigation into the death of his son. As Trump refused to order an investigation, Owen's father said, "Don't hide behind my son's death to prevent an investigation."
San Francisco Giants, a baseball team, paid a tribute to Ryan Owens by inviting his family to do the first pitch in 2017 home opener.