Rachel Maddow is a television personality and an author of the 2012 book Drift: The Unmooring of American Military Power. She is widely recognized as the host of The Rachel Maddow Show.
Early life and Education
Rachel Maddow was born on April 1, 1973 to father Robert and mother Elaine. Elaine was a school program administration by profession and her father was in the US Air Force. Raised in California with a brother, Rachel Maddow went to Castro Valley High School.
Graduating from Castro Valley, Maddow joined Stanford University for an undergraduate degree in public policy. As a receiver of John Gardner Fellowship and Rhodes Scholarship, Rachel Maddow joined the University of Oxford for post-graduate studies. She is also a politics doctorate degree holder from the University of Oxford.
Personal Life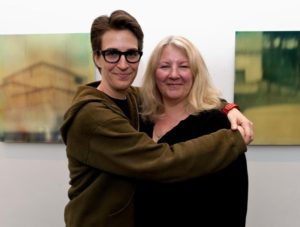 Rachel Maddow is not yet married but has a partner, Susan Mikula. The couple has been together since 1999. They have homes in Manhattan, New York and West Cummington, Massachusetts.
Career
As a university graduate, Rachel Maddow joined WRNX as a radio host in Holyoke. Soon, she moved to host the famous Big Breakfast in Northampton for WRSI. Working there for two years, Maddow joined Air America where she hosted initially Unfiltered. After its cancellation in 2005, a new program called The Rachel Maddow Show began airing. She stayed in the Air America for four years and gained substantial experience and widespread fame.
Alongside her radio career, Rachel embarked on her television path as well. In 2005, she was recruited as a panelist on Tucker, a show by MSNBC. Soon, she rose as a prominent television journalist, appearing in various shows such as Paula Zahn Now, Race for the White House and Countdown with Keith Olbermann. Maddow also became a fill-in reporter for David Gregory in Race for the White House and Keith Olbermann in Countdown with Keith Olbermann.
In August 2008, Rachel Maddow was signed by MSNBC as the host of The Rachel Maddow Show. The new show was first aired on September 8, 2008. Now, it has had more than 400 episodes that run for a complete one hour slot in MSNBC. As of 2017, The Rachel Maddow Show has an average of 2.5 million viewers.
Rachel Maddow is the writer of the political publication, Drift: The Unmooring of American Military Power.
Donald Trump and Rachel Maddow
Rachel Maddow was the first television journalist to reveal Donald Trump's 2005 federal tax returns on March 14, 2017. The White House condemned such an uninformed release.