Tonette Walker is the current First Lady of Wisconsin. She took office on January 3, 2011 as her husband Scott Walker succeeded Jim Doyle as Governor of Wisconsin. Tonette has been significantly active as First Lady, especially during the 2011 Japanese tsunami and earthquakes.
Early Life and Education
Tonette Walker was born on October 19, 1955 in Milwaukee, Wisconsin. Raised in a Sicilian Catholic family by father Anthony and mother Geraldine, Tonette supposedly completed her education in Wisconsin itself.
Personal Life
61-year-old Tonette Walker is currently married to 49-year-old Wisconsin Governor Scott Walker. They couple has been together since 1993 and has two children: Matt and Alex Walker. While Matt is a Marquette University graduate, Alex is in his senior year at the University of Wisconsin-Madison.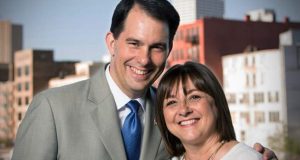 Career
Primarily, Tonette Walker started off as an employee at an insurance company. Over a period of 20 years, she moved between different insurance companies ascending several positions. Leaving insurance industry after a long service, Walker joined the American Diabetes Association. As of today, she is involved with the American Lung Association in Wisconsin.
https://www.youtube.com/watch?v=VMaAxnZU788
As Scott Walker assumed Governor's office in 2011, Tonette became First Lady of Wisconsin. Under such a capacity, Walker is focussing towards improving people's lives via numerous initiatives targeted to solve various problems. Under Fostering Futures Initiative, First Lady is striving to support traumatized families and children in Wisconsin. She envisions her state becoming one of the national leaders in Trauma Informed Care Movement.
In addition, Walker is also an active member of Teen Challenge of Wisconsin. As First Lady and person with a huge network of acquaintances, Tonette leads the fund-raising programs of Teen Challenge, works as an advocate against substance abuse and contributes towards rehabilitation of drug addicts.
Interestingly and most uniquely, Tonette Walker launched a new initiative called 'Walk with Walker' whereby people get invited to chat and walk around the most beautiful sceneries of Wisconsin. Likewise, she also founded the idea of Wisconsin Heroes Award. The initiative awards four people every year for their outstanding contribution to the Wisconsin community.
Donald Trump and Tonette Walker
Though Tonette might not be a familiar face to Donald Trump, her husband Scott Walker is. President Trump and Governor Walker were rivals during the 2016 Republican primary race. As the race took pace, Walker fell short in support and dropped off the race. In March 2016, Walker endorsed Ted Cruz. As Trump became the final Republican presumptive nominee, Walker vowed to support him and publicly expressed his view that Trump would make a far better President than Democratic nominee Hillary Clinton. In December 2016, Walker called Trump to grant more power on refugee intake to state administration.