Kelly Ayotte is the former United States Senator from New Hampshire who succeeded Judd Gregg on January 3, 2011. She was the Attorney General of New Hampshire from 2004 to 2009.
Early Life and Education
Kelly Ayotte was born on June 27, 1968 to father Marc Frederick and mother Kathleen Ayotte. Raised in New Hampshire, Kelly went to Nashua High School for early education. Graduating from Nashua, she joined Pennsylvania State University and earned a bachelor's degree in political science. Kelly did her Juris Doctorate degree from Villanova University School of Law.
Personal Life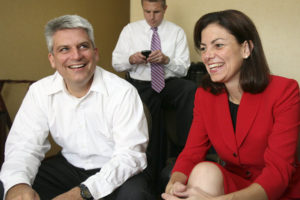 Kelly Ayotte is married to Joseph Daley who is an Iraq war veteran. Daley is currently retired and is running his own business in Merrimack.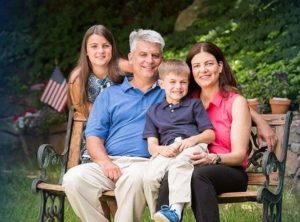 The Ayotte couple has two children: Katherine and Jacob Daley.
https://www.youtube.com/watch?v=DNsOM1VcfIo
Career
Graduating from Villanova University School of Law, Kelly Ayotte entered New Hampshire Supreme Court as a law clerk for Sherman D. Horton. Working there for a year, she joined McLane, Graf, Raulerson & Middleton as a law associate. After four years, she left the Manchester-based firm and became a prosecutor in New Hampshire Attorney General's office. Gradually working her way up, Ayotte assumed the office of Attorney General of New Hampshire on June 15, 2004 as the successor of Peter Heed. She served for five years in the office.
On July 7, 2009, Kelly resigned from the prestigious position of Attorney General to run for the US Senate in 2010 elections. Endorsed by well-known figures like John McCain, Sarah Palin, and Mitt Romney, Kelly Ayotte won the Republican nomination after a tight race against Ovide Lamontagne. He received 60.09% votes in the 2010 US Senate Election against Democrat Paul Hodes' 36.85% votes. In the 2016 US Senate Election, Kelly sought for another term. Unfortunately, she lost the ballot by 733 votes.
As US Senator, Kelly Ayotte prioritized creating jobs and boosting the US economy. She introduced Manufacturing Skills Act and Manufacturing Universities Act which are objected towards preparing the 21st-century students for 21st-century jobs. Likewise, in regard to homeland security, she supported keeping Guantanamo Bay and criticised Iran Nuclear Deal.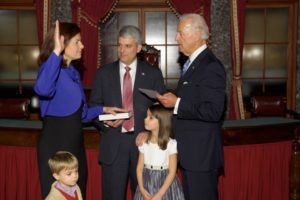 Similarly, Ayotte proposed an act that took student debt relief to another level. According to Student Loan Relief Act, the borrowers would need to pay an interest rate lower than the federal rate. In addition, some of her committee assignments were: Committee on the Budget, Committee on Commerce, Science, and Transportation, Committee on Armed Services, Committee on Homeland Security and Governmental Affairs and Committee on Small Business and Entrepreneurship.
Donald Trump and Kelly Ayotte
Both Kelly Ayotte and Donald Trump are Republicans by political ideology. They agree on a lot of economic and political issues. In fiscal policy, both believe in cutting the budget in order to reduce the federal debt and reduce taxes to create an incentive for investment.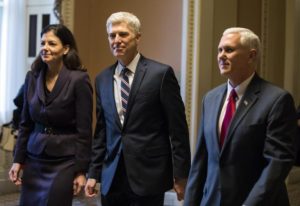 Likewise, like Trump, Ayotte also seems skeptical about the extent of Climate Change's effects. Also, she opposes Barack Obama's Affordable Care Act.
In a similar way, Kelly and Donald differ in some issues as well. While Trump claims he was against intervening in Iraq, Kelly criticizes Obama for withdrawing US military from the war-torn nation. Likewise, Kelly said that she won't vote for Trump after watching the women abuse videotape released on October 7, 2016.