Mike Crapo is the incumbent US Senator from Idaho who has been in the office since January 3, 1999 as the successor of Dirk Kempthorne. Formerly, Crapo was a member of the US House of Representative from Idaho's 2nd District (1993 – 1999), President pro tempore of the Idaho Senate (1988 – 1992) and a member of the Idaho Senate (1984 – 1992).
Early Life and Education
Mike Crapo was born on May 20, 1951 to father George Lavelle and mother Melba Crapo. Raised in Idaho Falls with a brother, Mike Crapo went to Idaho Falls High School and later joined Birmingham Young University for an undergraduate degree in political science. Crapo went on to do Juris Doctorate at Harvard Law School.
Personal Life
Mike Crapo is married to Susan Diane Hasleton since June 1974. Permanent members of the The Church of Jesus Christ of Latter-day Saints, the family consists of five children: Paul, Lara, Michelle, Brian and Stephanie Crapo.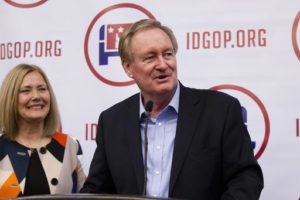 As of 1999, Mike had prostate cancer which was later treated by radical prostatectomy. Unfortunately, the fatal cancer recurred in 2005. Inspired by his own health background, Mike Crapo is an advocate for early cancer diagnosis.
Career
Graduating from Harvard Law School, Mike Crapo joined the United States Court of Appeals for the Ninth Circuit as a law clerk for James M. Carter. One year later, he became a private law practitioner at Holden Kidwell Hahn & Crapo.
Mike's brother Terry Crapo was a member of the Idaho Senate. Due to complications of leukemia, Terry died in 1982, hence leaving the Senate seat open for a potential successor. Mike decided to run for the seat and subsequently assumed the position on December 1, 1984. He served in the Senate until 1992. During that time, Mike was President pro tempore of the Idaho Senate from 1988 to 1992.
Leaving the Idaho Senate, Mike entered the US Congressional election in 1992. He won the Democrat opponent J. D. Williams with 61% votes in favor. Two years later, Crapo again defeated Penny Fletcher with a 25% – 75% margin. As of 1996, Mike was still well ahead of his Democratic opponent with 69% votes. On January 3, 1999, Mike left the office of US House of Representatives to join the US Senate.
In 1998 Senate Elections, Mike Crapo had a landslide victory against Democratic nominee Bill Mauk. Consequently, Crapo officially succeeded Dirk Kempthorne as US Senate from Idaho on January 3, 1999. Serving the first six-year term, Mike sought for a second term in 2004. He won the elections with 99% votes. Likewise, in 2010, Mike again had a large victory with 71% votes against Tom Sullivan's 25% votes. Crapo started his third term in the US Senate in January 2017 after winning the November 2016 Senate Elections with 66% votes.
As a member of the Senate, Mike Crapo successfully fulfilled his duties on the following committees: Committee on Indian Affairs, Committee on Banking, Housing, and Urban Affairs, Committee on the Budget, Committee on Environment and Public Works, and Committee on Finance. he also worked under several caucus memberships such as Senate Diabetes Caucus and Zero Capital Gains Tax Caucus.
Donald Trump and Mike Crapo
Both Donald Trump and Mike Crapo are Republicans by political affiliation. They agree on several political and economic issues in the US – the extents may differ.
After the media released Donald Trump's 2005 women abuse video, Mike Crapo rescinded his endorsement and vowed that he won't vote for Trump. However, he changed his statement and endorsed Trump to keep Democrat Hillary Clinton out of the White House.