Jon Voight is an Academy Award-winning veteran actor who is widely recognized for his performances in movies such as Coming Home, The Champ, Runaway Train and Enemy of the State. Voight is also the father of famous Hollywood actress Angelina Jolie.
Early Life and Education
On December 29, 1938, Jon Voight was born to father Elmer and mother Barbara. Raised in Yonkers with two brothers, Voight went to Archbishop Stepinac High School. After completing high school, Jon joined The Catholic University of America for an undergraduate degree in art. He was always fascinated by a career in acting.
Personal Life
Jon Voight was married to his first wife Lauri Peters in 1962. They stayed together for five years and got divorced in 1967. In 1971, he tied the marital knot with Marcheline Bertrand. The couple had two children: Angelina Jolie and James Haven.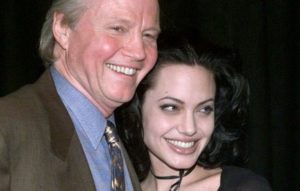 They parted their ways in 1976 and got divorced in 1980. Such a family tragedy led Voight to become estranged from his children. The family united again in 2007 after the death of Bertrand.
Career
Jon Voight started off his career into acting from television. In 1963, he joined the  Naked Show as Victor Binks. Soon, he was signed for two episodes of The Defenders as Cliff Wakeman. Between 1966 and 1968, he appeared in three episodes of Gunsmoke as different characters. In 1967, he appeared in Coronet Blue and N.Y.P.D. The same year, Jon also debuted in Hollywood movie Fearless Frank and Hour of the Gun as Fearless Frank and Curly Bill Brocius respectively.
In 1969, Voight appeared in two other movies: Midnight Cowboy and Out of It. His performance in the Midnight Cowboy earned him widespread fame and a huge success among critiques. He was nominated for Oscar in Best Actor Category. The other exceptionally successful movie, Deliverance, by Voight, was released in 1972 whereby he played Ed Gentry. Voight was nominated for Golden Globe Awards in Best Actor Category.
In 1978, Jon starred as Luke Martin in Coming Home. The movie received widespread acclaims and won Jon his only Academy Award. He won several other Best Actor Awards for the movie. Subsequently, Voight was in the lead role of The Champ 1979 as Billy Flynn. Likewise, in 1985, Voight was awarded Golden Globe Award for Best Actor for the movie Runaway Train. In 2001, Voight was depicted as Howard Cossell in the movie Ali. Although the film couldn't win any major award, it received a long list of nominations, including Oscar Award for Best Supporting Actor.
Since 2013, Jon Voight has been appearing in the television show Ray Donovan as Mickey Donovan. The tele series earned him a 2013 Golden Globe Award for Best Supporting Actor – Series, Miniseries or Television Film. In 2015, Voight was nominated for Primetime Emmy Awards' Outstanding Supporting Actor in a Drama Series Category.
Talking about Jon Voight's recent Hollywood appearances, he played the part of Henry Shaw Sr. in Fantastic Beasts and Where to Find Them and John Landsburg in JL Ranch. Likewise, Jon Voight is expected to play in 2017 movie Same Kind of Different as Me.
Donald Trump and Jon Voight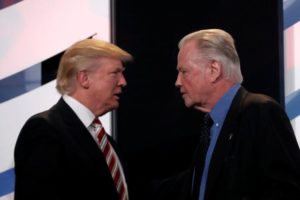 Jon Voight is one of the few artists who supported Donald Trump as President. He officially endorsed Donald Trump on March 9, 2016. Voight said that Trump is 'funny, playful and colorful' and added that he speaks candid truths. Along the road of 2016 presidential race, Voight continually urged Americans to vote for Trump.
On January 19, 2017, at a celebration in Washington, D.C., Voight said, "He [Trump] certainly didn't need this job. And yes. God answered all of our prayers."
https://www.youtube.com/watch?v=5sNH7_JkW4U