Michelle Obama is a lawyer and former First Lady of the United States. She remained in the office from January 20, 2009 to January 20, 2017 alongside her husband and former President Barack Obama. Preceded by Laura Bush, Michelle was succeeded by former fashion model Melania Trump.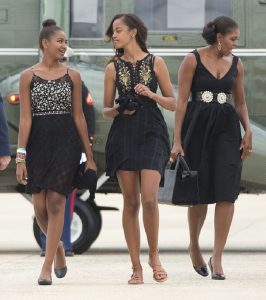 Early Life and Education
Michelle Obama was born on January 17, 1964 to African-American father Fraser and mother Marian Shields Robinson. Born and raised in Chicago, Illinois, Michelle completed her early education at Whitney Young High School. She then joined Princeton University and graduated in 1985 as one of top 25% students.
After leaving Princeton, Michelle Obama went to Harvard Law School for a Juris Doctorate degree.
Personal Life
As a Harvard law graduate, Michelle started working as an employee at Sidley Austin LLP. That's where she met her future husband and future President Barack Obama. The couple went to watch Do the Right Thing movie for their first date.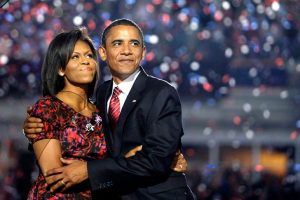 The famous Obama couple got married in 1992 and currently have two children: Malia Obama and Sasha Obama. While Malia will soon join Harvard for undergraduate studies, Sasha is looking to complete her high school education.
Career
Graduating from Harvard Law School, Michelle Obama joined Sidley & Austin as an associate. Primarily, she was especially focussed on marketing and intellectual property rights. As the time went by, Michelle started working for Mayor as an assistant. As of 1993, she was Executive Director of Public Allies in Chicago and, as of 1991, she held the office of Assistant Commissioner of Planning and Development.
In 1996, University of Chicago recruited her as Associate Dean of Student Services and later joined the UChicago hospital. Subsequently, in 2005, she became Vice President for Community and External Affairs. As of 2006 tax return, Michelle was earning a total of $273,618 from the University of Chicago. Besides, she earned large sums as a board member of TreeHouse Foods and from book royalties.
Although Michelle Obama is not a politician, she has been a critical and productive advisor to her husband Barack Obama. As Barack Obama was considering running for President, Michelle Obama remained skeptical because of the probable effects it could have on daughters. However, as Barack agreed to quit smoking, Michelle decided to support his campaign. Around March 2007, Barack Obama announced his presidency. As the race largely seemed in favor, Michelle decided to quit some of her positions to focus on the presidential campaign.
Throughout the 2008 presidential election campaign, Michelle strived hard to raise awareness about racial segregation in the US and education. Similarly, during the 2012 Presidential Election, she used the strategies of appealing to women of the swing states. Hence, both Michelle and Barack Obama remained significantly higher than Mitt and Ann Romney in opinion polls.
In 2010, Michelle launched her initiative titled "Let's Move!". The initiative was aimed at reducing the growing child obesity in the United States due to over consumption of inorganic and sugary junk foods.  Likewise, she strongly supported gay marriage and women rights on various issues. In the same way, Michelle has been a commencement speaker at numerous colleges and universities in the US such as UC Merced.
In 2009, Michelle went to the UK and visited Queen Elizabeth II. Similarly, she visited Mexico, Johannesburg, Cape Town, China, Saudi Arabia and Cuba. Although the visits weren't supposedly political, they indeed had huge impacts on US foreign relationships.
Donald Trump and Michelle Obama
Donald Trump and Michelle Obama definitely aren't big fans of each other. Obama has criticized Trump while at several public events. She harshly commented on 2005 women abuse audio recording calling it unacceptable. Likewise, Michelle delivered several speeches in favor of Hillary Clinton.
Reportedly, Melania Trump was rumored to have copied Michelle Obama's speech.