Martha Roby is the incumbent member of the US House of Representatives from Alabama's 2nd District who assumed office on January 3, 2011 as the successor of Bobby Bright. She is one of the first woman elected to the position from Alabama.
Early Life and Education
Martha Roby was born on July 26, 1976. Raised in Montgomery, Alabama, she went to a local school and later joined New York University for an undergraduate degree in music. After NYU, Roby went to Stamford University Cumberland School of Law for a Juris Doctorate degree.
Personal Life
Martha Roby is married to husband Riley Roby with two children: Margaret and George.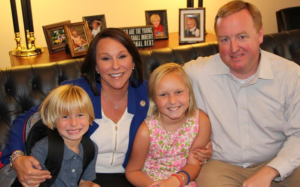 Career
Martha Roby commenced her political career as a member of the Montgomery City Council in 2003. She won 54.88% votes to win the position where she remained for the next seven years. In 2010, Roby decided to enter the 2010 Alabama 2nd Congressional District Republican Primary Election. Winning 48.55% votes, Martha joined Rick Barber in the run-off election. Consequently, she won the Republican nomination by winning 60.02% votes. To follow up, Roby defeated Democratic candidate Bobby Bright with 50.97% votes.
In 2012 election, Martha Roby faced Democratic candidate Therese Ford who suffered a tragic loss with a 63.6% to 36.3% margin. Likewise, Roby also won a third term in Congress with 67.34%-32.56% margin against Democrat Erick Wright. In the 2016 election, Roby earned another victory with 48.8% votes in favor.
As a member of the US House of Representatives, Martha Roby has sponsored six bills so far and worked in several committee assignments. She supports Regulations from the Executive in Need of Scrutiny Act and mildly opposes same-sex marriage. Likewise, she reflects Trump's views on immigration: Roby said that she will never support amnesty policy for immigrants. As a Republican, Roby advocates against abortion and planned parenthood and has frequently stood against regulations concerning the environment.
Donald Trump and Martha Roby
Martha Roby and Donald Trump reflect each other some important issues of the United States. They both are largely concerned about national debt and apparent downsides brought about by Patient Protection and Affordable Care Act, or Obamacare. In 2017, she voted in favor of Donald Trump's appeal to repeal Obamacare.
Despite resembling stands, Martha Roby was an outspoken critic of Donald Trump. She withdrew her endorsement after Trump's women abuse video was released in October 2016. Roby also said that she would not vote for Donald Trump.