Karen Waldbillig Kasich is the incumbent First Lady of Ohio who has been in the office since her husband John Kasich succeeded Ted Strickland as Governor of Ohio on January 10, 2011. Karen is also a business executive and a communications graduate from Ohio State University.
Early Life and Education
Karen Kasich was born on December 26, 1963 in Upper Arlington, Ohio. Raised in the same area, Kasich joined a local high school and went on to do an undergraduate degree in communications from Ohio State University.
Personal Life
John and Karen Kasich met in 1989 when John was a congressman and Karen was working in a public relations project. As the program finished, John called Karen and thanked for helping with the project.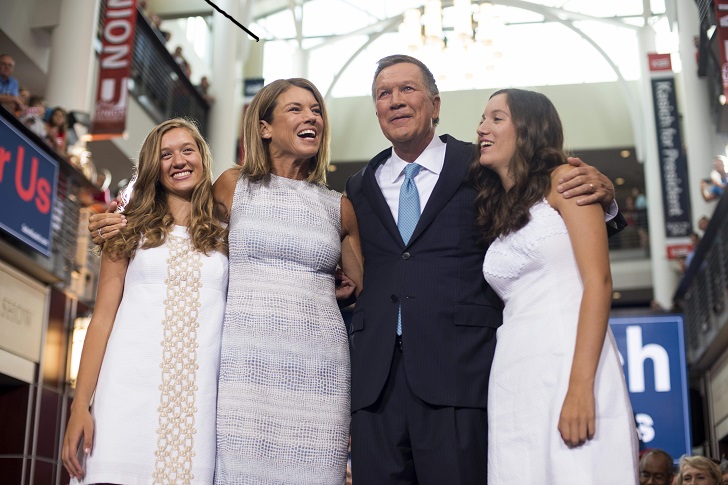 Karen recalls of that moment, "Wasn't that nice? None of those other people called to thank me!" This thought led them to start dating and eventually tying the sacred marital knot in 1997.
John and Karen Kasich have two 16-year-old twin daughters: Emma and Reese. Reportedly, Karen left her job as vice president of GSM Worldwide in order to focus on daughters' nourishment.
Career
Karen Kasich is a communications graduate from Ohio State University. As an expert, she started working in various political and non-political projects. As the time went by, she found more stability in working at GSM Worldwide. Gradually, Karen climbed her way up to vice president of the healthcare advertising agency and left her job in the late 1990s. She says, "I felt I was half as good as I was at work and half as good as I could be at home. I wanted the focus to be on my kids; I'm only going to have them for a short while."
After leaving the mainstream career, Karen Kasich became a full-time mother but never failed to engage in various community works. As John Kasich took Governor's office on January 10, 2011, Karen Kasich entered the mainstream politics and started working for the betterment of all Ohio. Motivated by the death of her mother due to heart failure, First Lady Karen is focussed on women heart health and child care.
First Lady Karen collaborated with Ohio State University College of Nursing and the Million Hearts Campaign in order to raise awareness about the prevention of heart diseases. Likewise, she also works as a member of The Partnership at Drugfree and Ohio Valley Go Red for Women Council. Engaged with these organizations, Kasich has made herself a champion of women heart health.
Besides focusing on women heart, Karen has made a significant contribution in the childcare sector. As an ambassador of After-School All-Stars Ohio, she managed to encourage the Ohio-based families to provide academic and mental support to their children after school. In addition, Karen also joined Ohio Department of Transportation's Safe Routes to School initiative. This initiative was meant to increase road safety for students.
Donald Trump and Karen Kasich
Karen Kasich, although a well-known First Lady, hasn't yet had any direct links or confrontations with President Donald Trump. However, her husband and Governor John Kasich is closely linked to Donald Trump. The two always showed contempt and disrespect during the 2016 Presidential Republican Primary Elections. Even after dropping off the Republican race, Kasich hesitated to endorse Donald Trump.