Newt Gingrich is the former and 50th Speaker of the United States House of Representatives who served as the successor of Tom Foley from January 4, 1995 to January 3, 1999. He was also the 14th House Minority Whip (1989 – 1995) and a member of the US House of Representatives from Georgia's 6th District from 1979 to 1999.
Early Life and Education
Newt Gingrich was born to father Newton Searles and mother Kathleen on June 17, 1943. As the couple parted their ways within a few days of getting married, Gingrich was raised by his mother in different parts of the world including Germany and France.
As a child, he went to Baker High School in Georgia and later joined Emory University for an undergraduate degree in history. For post-graduate studies, Gingrich attended Tulane University and received a degree in European history. Gingrich did his Ph.D. on the same subject.
Personal Life
Newt Gingrich has already been married three times. Firstly, he tied the sacred knot with Jacqueline May Battley who was a geometry teacher. The couple had two daughters named Kathy and Jackie. In 1980, Newt and Jacqueline parted their ways.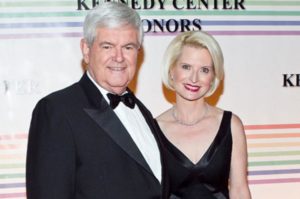 In 1981, Newt married his lover Marianne Ginther. After staying together for around 19 years, Gingrich divorced Marianne and married US House of Representatives staffer Callista Bisek with whom he had an affair since 1993.
Career
In the 1978 US Congressional Elections, Newt Gingrich made a successful run. He defeated Democratic opponent Virginia Shapard by a difference of 7500 votes and joined the office as a member of the US House of Representatives and successor of John James Flynt Jr. on January 3, 1979. Newt Gingrich remained in the office until January 3, 1999. He was succeeded by Johnny Isakson.
While in the Congress, Newt Gingrich became the 14th Minority Whip from March 20, 1989 to January 3, 1995. As the successor of Dick Cheney, Gingrich gained his position as an influential and powerful person in the American politics. In 1994, he brought out a ten-policy proposal that would be presented in the House if the Republican party won the election. The proposal consisted policies relating to term limits, budget, welfare reforms, et cetera.
Completing his term at House Minority Whip's office, Newt Gingrich became the House Speaker. On January 4, 1995, Gingrich succeeded Tom Foley and remained in the position until January 3, 1999 when he was succeeded by Dennis Hastert. Under this capacity, Gingrich pushed for an approval of Personal Responsibility and Work Opportunity Act which would reform the welfare sector by providing greater degree of autonomy to the state governments. Likewise, the legislators passed Taxpayer Relief Act under Gingrich's leadership.
Although Newt had already won a second term in Speaker's office, he was compelled to resign after the Republican party lost five seats in the house in the 1998 Congressional Elections. Since resignation, Newt Gingrich has mainly involved himself in the business sector. In 1999, he started The Gingrich Group which was later renamed to Center for Health Transformation. Over a period of a decade, the company had revenues as high as $55 million. Unfortunately, the company went through a rough period after 2010 and filed for bankruptcy in 2012.
In 2007, Newt and his wife commenced Gingrich Productions, as of 2010, the company added around $2.4 million to Gingrich couple's net worth. Likewise, Gingrich Communications is an organization formed by Newt himself which looks after his public speeches and fees. He takes around $60k per speech.
On March 3, 2011, Newt Gingrich commenced his campaign for the Republican nomination to run for the 2012 Presidential Election. Unfortunately, doubting the validity of his campaign, some of his top aides resigned which resulted in dropping out of the race.
Donald Trump and Newt Gingrich
Newt Gingrich supported Donald Trump's MAGA PAC throughout the 2016 presidential election and even urged the Republican party to unite and help Trump win the White House. Following Gingrich's strategic advice to Donald Trump, he was the speculated Secretary of State. However, Newt later clarifies that he will not serve in the Trump administration, but rather be an advisor than a job seeker.