Quick Info about Janet Huckabee
Full Name

Janet Huckabee

First Name

Janet

Last Name

Huckabee

Born Name

Janet McCain

Birth date

16/07/1955

Birth Place

Lake Charles, Louisiana, USA

Zodiac Sign

Cancer

Nationality

American

Ethnicity

White

Profession

Politician

Wife

Mike Huckabee

Net Worth

$9 million

Age

64

Dating

NA

Parents

Angus Bouie McCain and Pat House

Twitter

https://twitter.com/janethuckabee

Children

John Mark Huckabee, David Huckabee, and Sarah Huckabee Sanders
Janet Huckabee is a popular American politician. She has been actually famous for formerly serving as the First Lady of Arkansas back in the year 1996. Huckabee is very much popular for being the wife of former Arkansas Governor, Mike Huckabee.
Early Life:
Janet Huckabee was born as Janet McCain on July 16, 1955, in Lake Charles, Louisiana, USA. When she was an infant, her parents traveled to Hope, Arkansas, where she spent her entire childhood. She is the fourth among five children of Angus Bouie McCain and Pat House. In the year 1973, Huckabee completed her high school studies from Hope High School. Later, she completed her bachelors' degree in Organizational Management from John Brown University.
Career: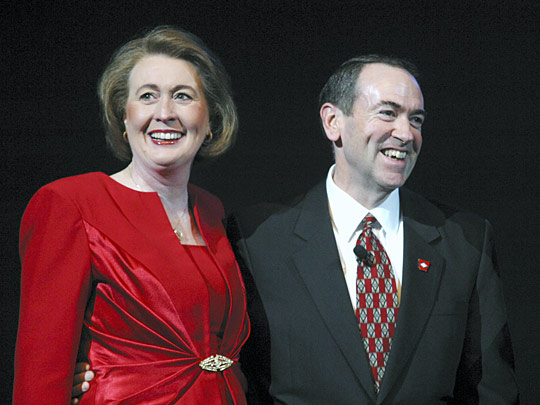 From November 20, 1993, until July 15, 1996, Janet Huckabee served as the Second Lady of Arkansas. On July 15, 1996, Mike Huckabee was elected the new Governor of Arkansas which led her to serve as the First Lady of Arkansas. The couple served until January 8, 2007.
In the year 2002, she as well as her husband, ran in the same election in Arkansas. Janet ran as one of the nominees for Arkansas Secretary of State while Mike ran for the second term governor. However, both of them lost the elections. But, later, Mike was successful during the re-election. Janet Huckabee also served for Hanke Brothers Construction Company until the year 2008. She was the vital member of her husband's presidential campaign in both the years 2008 as well as 2012.
Apart from all these, Janet Huckabee has also served as the president of the Parent-Teacher Association. She also worked as a substitute teacher for St. Michael Hospital. Since she has been serving in the same political party as Donald Trump, it is believed that these two have many things in common and she is a great supporter of him.
Personal Life: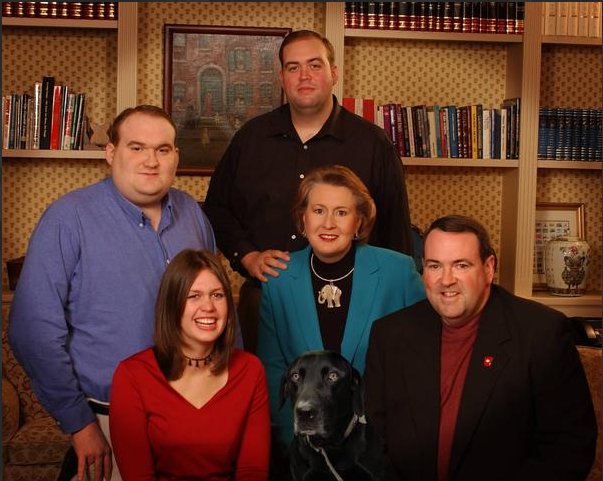 Janet Huckabee married Mike Huckabee in 1974. The couple had been dating since their high school. Now, the couple shares a total number of three children- John Mark Huckabee, David Huckabee, and Sarah Huckabee Sanders. Currently, Janet Huckabee has been residing in Arkansas along with her husband and two sons.
Also read: Sarah Sanders in her wedding dress: 29th White House Press Secretary also Campaign manager & political adviser
Also read: Donald Trump gave Sarah Huckabee Sanders a warm goodbye
Net Worth: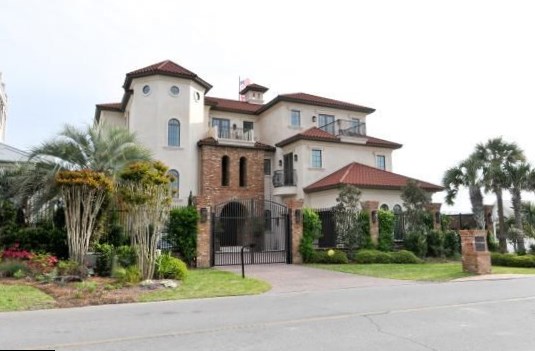 The estimated net worth of Janet Huckabee is approximately $9 million. Her primary source of income is from her current political position. Previously, she also earned some amount of money as a teacher.
Facts:
Janet Huckabee had suffered from spinal cancer and had a huge probability of becoming paralyzed. Later, she underwent various radiation therapy and was successful in fighting the cancer.
Some of her hobbies include skiing, swimming, playing basketball, and piloting an airplane.
She seems to be very much adventurous who has already bungee jumped as well as parachuted out of a plane.
Once she had shot a grenade launcher at National Guard Training Camp in Arkansas.
Janet Huckabee was also an athlete who played for her high school basketball team as well as she has completed two marathons until now.